Photo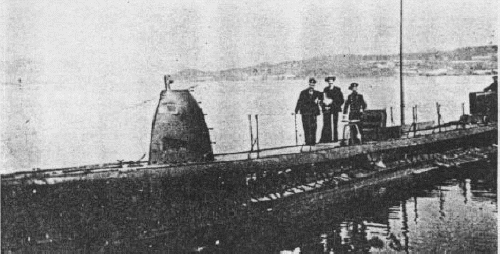 Kasatka 1905
Ships
| Name | No | Yard No | Builder | Laid down | Launched | Comp | Fate |
| --- | --- | --- | --- | --- | --- | --- | --- |
| Касатка [Kasatka] |   |   | Baltic Wks, St. Petersburg | 3.1904 | 7.7.1904 | 3.1905 | stricken 11.1925 |
| Макрель [Makrel`] |   |   | Baltic Wks, St. Petersburg | 4.1904 | 27.8.1904 | 8.1908 | stricken 11.1925 |
| Налим [Nalim] |   |   | Baltic Wks, St. Petersburg | 4/1904 | 8.9.1904 | 5.1905 | captured by Germany 1.5.1918 |
| Окунь [Okun`] |   |   | Baltic Wks, St. Petersburg | 4.1904 | 13.9.1904 | 7.1908 | stricken 11.1925 |
| Скат [Skat] |   |   | Baltic Wks, St. Petersburg | 3.1904 | 3.9.1904 | 4.1905 | captured by Germany 1.5.1918 |
| Фельдмаршал Граф Шереметьев [Feldmarshal Graf Sheremetyev], 8.1917- Кета [Keta] |   |   | Baltic Wks, St. Petersburg | spring 1904 | 21.8.1904 | 5.1905 | foundered 23.9.1924 |
Technical data
Displacement standard, t

 

Displacement normal, t
140 - 142 / 177
Length, m

33.4

Breadth, m

3.39

Draught, m

2.80

No of shafts

Kasatka, Nalim, Skat, Feldmarshal Graf Sheremetyev, Okun': 1

Makrel: 3

Machinery

Kasatka, Nalim, Skat, Feldmarshal Graf Sheremetyev, Okun': 2 kerosine dynamo machines, 1 electric motor

Makrel: 2 kerosine engines / 1 electric motor

Power, h. p.

Kasatka, Nalim, Skat, Feldmarshal Graf Sheremetyev, Okun': 100

Makrel: 120 / 100

Max speed, kts

Kasatka, Nalim, Skat, Feldmarshal Graf Sheremetyev, Okun': 14 / 8.5

Makrel: 9 / 8.5

Fuel, t

kerosene 4.8

Endurance, nm(kts)
1200(7) / 70(5)
Armament

4 - 450 TT (side drop-collars, 4)

Complement

24

Diving depth operational, m
50 (max)
Standard scale images

Kasatka 1914

Kasatka 1906
Graphics
Project history
Design of I. G. Bubnov. Single-hulled, without watertight bulkheads. Okun ` and Makrel ` under original project should have 3 petrol motors for surface trim, but because of their absence completion was delayed. Finally diesels working with electric motors on one shaft were installed. Kasatka, Nalim, Skat and Graf Sheremetev were completed under original project.
Modernizations
1911, Makrel': 2 shafts were removed, new power plant consisted of 1 diesel / 1 electric motor (120 / 100hp, 9.5kts, 2.6t of diesel oil), large bridge amidships was fitted.

1911, Okun': kerosine dynamo machines were replaced by 1 diesel (120/100hp)

1910s, Kasatka, Feldmarshal Graf Sheremetyev: + 1 x 1 - 7.6/94

1915, Nalim, Skat: + 1 x 1 - 47/40 Hotchkiss
Naval service
Skat and Nalim were scuttled by British-French troops off Sevastopol. Nalim was raised in 1932 and broken up. Keta 23.9.1924 was foundered by flood at Kronshtadt, later wreck was raised and broken up.