Photo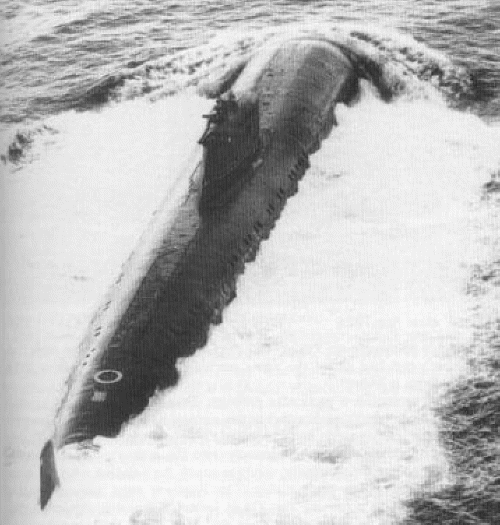 Project 670 1975  
Ships
| Name | No | Yard No | Builder | Laid down | Launched | Comp | Fate |
| --- | --- | --- | --- | --- | --- | --- | --- |
| К-43 [K-43], 8.1984- УТС-550 [UTS-550], 3.1991- К-43 [K-43], 4.1992- Б-43 [B-43] |   | 701 | Krasnoe Sormovo, Gorkiy | 9.5.1964 | 2.8.1966 | 6.11.1967 | to India 12.1984-3/1991 (चक्र [Chakra]), stricken 7.1992 |
| К-87 [K-87], 1.1978- К-212 [K-212] |   | 702 | Krasnoe Sormovo, Gorkiy | 6.2.1965 | 20.3.1966 | 28.12.1968 | stricken 4.1990 |
| К-25 [K-25] |   | 703 | Krasnoe Sormovo, Gorkiy | 2.12.1965 | 31.7.1968 | 30.12.1968 | stricken 6.1991 |
| К-143 [K-143], 7.1977- К-121 [K-121], 4.1992- Б-121 [B-121] |   | 704 | Krasnoe Sormovo, Gorkiy | 25.11.1966 | 29.4.1969 | 31.10.1969 | stricken 6.1993 |
| К-313 [K-313], 4.1992- Б-313 [B-313] |   | 705 | Krasnoe Sormovo, Gorkiy | 14.7.1966 | 16.7.1969 | 16.12.1969 | stricken 7.1992 |
| К-308 [K-308], 4.1992- Б-308 [B-308] |   | 711 | Krasnoe Sormovo, Gorkiy | 29.12.1967 | 19.2.1970 | 20.9.1970 | stricken 7.1992 |
| К-320 [K-320], 4.1992- Б-320 [B-320] |   | 712 | Krasnoe Sormovo, Gorkiy | 30.4.1968 | 27.3.1971 | 15.9.1971 | stricken 7.1994 |
| К-302 [K-302], 4.1992- Б-302 [B-302] |   | 713 | Krasnoe Sormovo, Gorkiy | 17.1.1969 | 11.7.1970 | 1.12.1970 | stricken 6.1993 |
| К-325 [K-325] |   | 714 | Krasnoe Sormovo, Gorkiy | 6.9.1969 | 4.6.1971 | 5.11.1971 | stricken 6.1991 |
| К-429 [K-429] |   | 715 | Krasnoe Sormovo, Gorkiy | 26.1.1971 | 22.4.1972 | 15.9.1972 | training hulk 3.1987 |
| К-201 [K-201], 4.1992- Б-201 [B-201] |   | 721 | Krasnoe Sormovo, Gorkiy | 16.11.1971 | 26.8.1972 | 26.12.1972 | stricken 10.1994 |
Technical data
| | |
| --- | --- |
| Displacement standard, t |   |
| Displacement normal, t | 3574 / 4430 |
| Length, m | 95.6 |
| Breadth, m | 9.60 |
| Draught, m | 7.81 |
| No of shafts | 1 |
| Machinery | OK-350 steam generation unit (1 VM-4-1 nuclear reactor), 1 GTZA-631 geared steam turbines unit |
| Power, h. p. | 18800 |
| Max speed, kts | 12 / 26 |
| Fuel, t | nuclear |
| Endurance, nm(kts) | practically unlimited |
| Armament | 8 x 1 P-40 Ametist SSM (8 4K66), 4 - 533 TT (bow, 14), 2 - 400 TT (bow, 4) |
| Electronic equipment | RLK-101 Albatros or MRK-50 radar, MGK-100 Kerch'-670, MG-17 sonars, Zaliv-P ECM suite, Brest CCS |
| Complement | 86 |
| Diving depth operational, m | 240 |
Standard scale images

K-43 1967

K-313 1990
Graphics
Project history
Project 670 was initially conceived as a mass-production nuclear submarine; hence the choice of a single-reactor powerplant at a time when the Soviet naval staff very strongly preferred two reactors and two propellers. The Lazurit KB (TsKB-112, associated with the Gorkiy yard) prepared the design, probably having won the competition. Some time after the design had been begun, the submarine was redesigned to carry the anti-ship missile system which had been conceived for Project 661. Presumably that was because Project 661 was so clearly going to be both late and overexpensive. There wee also problems with the planned P-40 Ametist missile. The boat was designed to accommodate the projected weapon, but for the first series a modified P-15, probably designated P-20L, was substituted. This missile was shorter than P-40, so the tubes are plugged at their lower ends. Missiles were fired submerged on the basis of intermittent radar data: the fire control system was an adapted version of the surface ship system. A nuclear version can be fired (to first convergence zone) on the basis of sonar data.
Modernizations
1980s, K-212, K-302, K-308, K-313, K-320: - MGK-100 Kerch'-670 sonar; + MGK-400 Rubikon sonar

1984, K-43 - under Project 06709: - MGK-100 Kerch'-670 sonar; + MGK-400 Rubikon, MG-519 Arfa sonars
Naval service
K-429 sank in Sarannaya Bight E of Petropavlovsk 23 June 1983, reportedly because a ventilator out closed before a post-refit dive. Raised and repaired, she sank at dock 13.9.1985 again. She was again raised but then was used only as a training hulk. K-43 was officially reclassified as training hulk 30.8.1984 for training of Indian crew and was stricken from Soviet fleet list 27.12.1984. Four years she was used for training, Indian flag was raised only 5.1.1988. 1.3.1991 she was returned to Soviet Navy and commissioned again.