NAVYPEDIA Support the project with paypal
Photo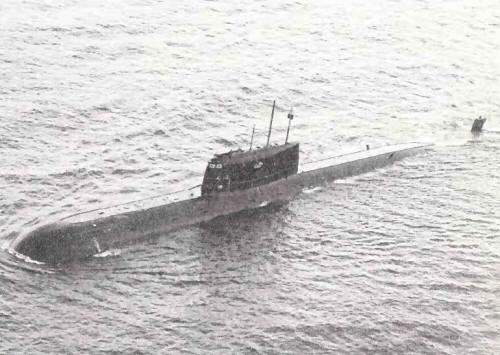 K-278 Komsomolets 1988  
Ships
| Name | No | Yard No | Builder | Laid down | Launched | Comp | Fate |
| --- | --- | --- | --- | --- | --- | --- | --- |
| К-278 [K-278], 1.1989- К-278 Комсомолец [K-278 Komsomolets] |   | 510 | Northern Yd, Severodvinsk | 22.4.1978 | 3.6.1983 | 28.12.1983 | fire 7.4.1989 |
Technical data
| | |
| --- | --- |
| Displacement standard, t |   |
| Displacement normal, t | 5680 / 7725 |
| Length, m | 118.4 |
| Breadth, m | 11.1 |
| Draught, m | 7.40 |
| No of shafts | 1 |
| Machinery | 1 geared steam turbines unit, OK-650B-3 nuclear reactor |
| Power, h. p. | 43000 |
| Max speed, kts | 14 / 30.6 |
| Fuel, t | nuclear |
| Endurance, nm(kts) | practically unlimited |
| Armament | 6 - 533 TT (22, inc. Granat CruM (3M10), URPK-6 Vodopad-PL SSM/ASuM (83R, 84R), VA-111 Shkval rocket torpedoes) |
| Electronic equipment | MRK-55 Chibis radar, MGK-500 Skat-Plavnik sonar suite, Bukhta ECM suite, MG-74 Korund-2 decoys, MVU-132 Omnibus CCS |
| Complement | 57 |
| Diving depth operational, m | 1000 |
Standard scale images
K-278 1985
Graphics
Project history
This submarine was designed by Rubin design bureau (TsKB-18). The TTZ was approved in 1966, and the technical design on 16 December 1974.

This was described officially as a deep-diving experimental submarine with a titanium hull, to test several innovative technologies. The absence of a stern pod for a towed array suggests that she was a deeper-diving equivalent to Project 671 submarines. She apparently had the new reactor used in third-generation submarines. Design depth was 1000m (1250m crush depth). She was equipped with an escape sphere which broke loose when she hit the bottom at about 1500m. As official Russians reported, at moment of sinking submarine carried 4 Granat cruise missiles, 4 Vodopad-PL anti-ship/anti-submarine missiles, 2 Shkval rocket torpedoes and 12 SAET-60 and USET-80 conventional torpedoes.
Modernizations
None.
Naval service
7.4.1989 in Norwegian Sea submarine returned to home base, going on 380m deep at 8kts. The fire was begun in 7th (aft end) compartment. Submarine begun surfaced, but on 150m deep the main turbines were shut down, fire spread to other compartments. 59 crew members abandoned submarine on surface, 23 men sank with a submarine, five men surfaced in escape sphere but only one from them survived. 42 men were lost at all.
© 2007-2022 - navypedia.org