Photo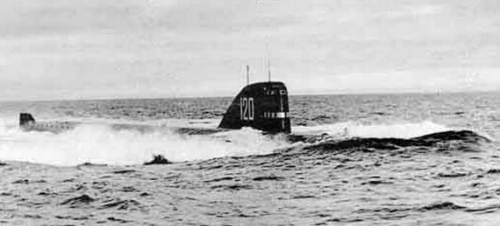 K-27
Ships
| Name | No | Yard No | Builder | Laid down | Launched | Comp | Fate |
| --- | --- | --- | --- | --- | --- | --- | --- |
| К-27 [K-27] |   | 601 | Northern Wks, Severodvinsk | 15.6.1958 | 1.4.1962 | 30.10.1963 | stricken 2.1979 |
Technical data
| | |
| --- | --- |
| Displacement standard, t |   |
| Displacement normal, t | 3414 / 4370 |
| Length, m | 109.8 |
| Breadth, m | 8.30 |
| Draught, m | 5.85 |
| No of shafts | 2 |
| Machinery | 2 RM-1 nuclear reactors, 2 GTZA-601 geared steam turbines sets |
| Power, h. p. | 35000 |
| Max speed, kts | 14.9 / 30.2 |
| Fuel, t | nuclear |
| Endurance, nm(kts) | practically unlimited |
| Armament | 8 - 533 TT (bow) |
| Electronic equipment | Prizma radar, MG-200 Arktika-M, Plutoniy, MG-10 Kola, MG-13 sonars, Nakat-M ECM suite |
| Complement | 89 |
| Diving depth operational, m | 240 |
Standard scale images

K-27 1963
Graphics
Project history
K-27 (of Project 627A) was redesigned with a new liquid-metal (lead-bismuth) powerplant (as Project 645). Contract design began in 1955 because the hull very nearly duplicated that of Project 627, there was no need for a concept or preliminary design. The only important differences were that the bow of Project 645 was spherical (like that of 627) only below the waterline, it was conical above. Furthermore, unlike 627, 645 was designed to standard navy requirements. It added ship-service turbo-generators, tike than of Western nuclear submarines. There was some internal rearrangement The reactor room replaced the auxiliary machinery space of the 627; the turbo-generators and diesel generators replaced the reactor space of the 627.

Compared with Project 627A, this design needed 23% less battery capacity because its higher-temperature reactor needed much less electricity to start up. The ship's combat system was also improved: a device tor rapid torpedo loading was installed, it could simultaneously load any four tubes. Like a 627A, 645 had Arktika-M and the Leningrad system which allowed attacks without using a periscope. The usual second (air search) periscope was added. Non-magnetic steel was used in the outer hull, superstructure, and sail to reduce magnetic signature (degaussing weight and power were halved). However, as in contemporary German submarines, the new steel caused problems.
Modernizations
None.
Naval service
K-27 sufffered severe damage during patrolling 24.5.1968, port reactor was crashed. Later submarine was used only for tests and never was commissioned again.