NAVYPEDIA Support the project with paypal
Photo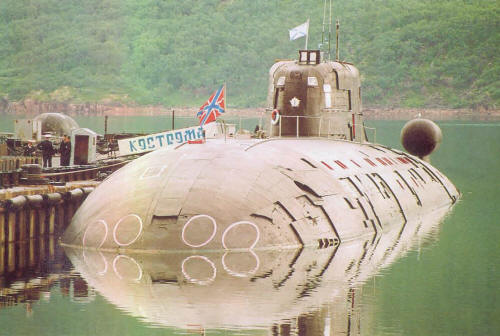 B-276 Kostroma 2002
Ships
| Name | No | Yard No | Builder | Laid down | Launched | Comp | Fate |
| --- | --- | --- | --- | --- | --- | --- | --- |
| К-239 [K-239], 6.1992- Б-239 [B-239], 4.1993- Б-239 Карп [B-239 Karp] | 622 | 3001 | Krasnoe Sormovo, Gorkiy | 20.7.1979 | 29.7.1983 | 29.9.1984 | awaiting disposal (2019) |
| К-276 [K-276], 6.1992- Б-276 [B-276], 4.1993- Б-276 Краб [B-276 Krab], 11.1996- Б-276 Кострома [B-276 Kostroma] | 648 | 3002 | Krasnoe Sormovo, Gorkiy | 21.4.1984 | 26.7.1986 | 27.10.1987 | awaiting disposal (2019) |
Technical data
| | |
| --- | --- |
| Displacement standard, t |   |
| Displacement normal, t | 6170 / 8200 |
| Length, m | 107.2 |
| Breadth, m | 12.3 hull 16.7 max |
| Draught, m | 9.62 |
| No of shafts | 1 |
| Machinery | 1 OK-9D geared steam turbines unit, 1 OK-650B-3 nuclear reactor |
| Power, h. p. | 50000 |
| Max speed, kts | 12.2 / 35 |
| Fuel, t | nuclear |
| Endurance, nm(kts) | practically unlimited |
| Armament | 4 - 650 TT (12, inc. URPK-7 Veter SSM/ASuM (86R, 88R), 4 - 533 TT (28, inc. URPK-6 Vodopad-PL SSM/ASuM (83R, 84R), VA-111 Shkval rocket torpedoes), 1 x 1 Strela-3 SAM (12 9M36) |
| Electronic equipment | MRKP-58 Radian radar, MGK-500 Skat-KS sonar suite, MG-519M Arfa-M, MG-512 Vint-M sonars, MRP-21 ECM suite, MG-74 Korund-2 decoys, MVU-132 Omnibus-5 CCS |
| Complement | 61 |
| Diving depth operational, m | 480 |
Standard scale images

B-239 Karp 2000
Graphics
Project history
This titanium-hulled submarine was the follow-on to Project 671RTM. Like Project 971, it combines the Project 671RTM sonar suite with a very quiet (fully rafted) powerplant incorporating the Project 971 reactor. 'Environmental' (non-acoustic) sensors are in the sail. A crew escape pod occupies die centre of the rather wide sail. Much to the disgust of the design organisation, Lazurit, construction of this type was cancelled in favour of Project 971, which was apparently much less expensive. Submarines are armed with very powerful long-range Veter dual-purpose missile.
Modernizations
2003, B-276 Kostroma: + MNK-100 Kolos wake detector
Naval service
No significant events.
© 2007-2022 - navypedia.org