NAVYPEDIA Support the project with paypal
Photo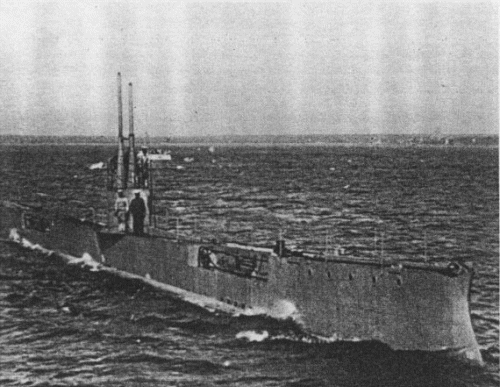 Akula 1911  
Ships
| Name | No | Yard No | Builder | Laid down | Launched | Comp | Fate |
| --- | --- | --- | --- | --- | --- | --- | --- |
| Акула [Akula] |   |   | Baltic Wks, St. Petersburg | 4/1907 | 4.9.1909 | 11/1911 | sunk 28.11.1915 |
Technical data
| | |
| --- | --- |
| Displacement standard, t |   |
| Displacement normal, t | 370 / 468 |
| Length, m | 56.1 |
| Breadth, m | 3.76 |
| Draught, m | 3.28 |
| No of shafts | 3 |
| Machinery | 3 diesels / 1 electric motor |
| Power, h. p. | 900 / 300 |
| Max speed, kts | 10.6 / 6.4 |
| Fuel, t | diesel oil |
| Endurance, nm(kts) | 1900 / 38(4.7) |
| Armament | 8 - 450 TT (2 bow, 2 stern, 4 Drzewiecki drop-collars, 12) |
| Complement | 34 |
| Diving depth operational, m | 50 |
Standard scale images
Akula 1911
Graphics
Project history
Ordered in December 1906 as a Bubnov's version of the 400t Lake type submarines (Kaiman class). In many respects she represented the enlarged Minoga design with a more reliable powerplant. She experienced serious teething problems, the most troublesome being replacement of 225hp electric motor by a 300hp one and triple changing of propellers. She was a single bull type with saddle tanks. Undoubtedly the most successful of the pre-war Russian submarines, she near missed the German coastal battleship Beowulf.
Modernizations
1915: + 1 x 1 - 47/40 Hotchkiss, 2 x 1 - 7.6/94, 4 mines
Naval service
Akula was lost on a mine off Hiiumaa Is in the Baltic 28.11.1915.
© 2007-2022 - navypedia.org