NAVYPEDIA Support the project with paypal
Photo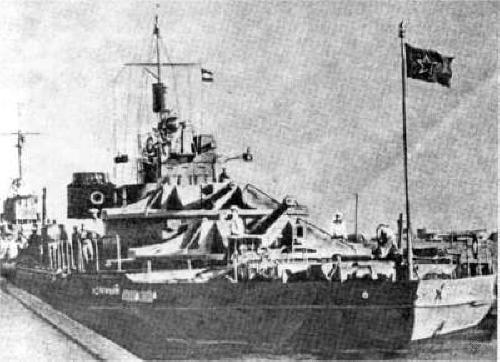 Udarnyy
Ships
| Name | No | Yard No | Builder | Laid down | Launched | Comp | Fate |
| --- | --- | --- | --- | --- | --- | --- | --- |
| Ударный [Udarnyy] |   |   | 300 Yd (Leninskaya Kuznitsa), Kiev | 11.1930 | 17.5.1932 | 6.1934 | sunk 20.9.1941 |
Technical data
| | |
| --- | --- |
| Displacement standard, t | 367 |
| Displacement full, t | 387 |
| Length, m | 53.7 |
| Breadth, m | 11.1 |
| Draught, m | 0.82 |
| No of shafts | 2 |
| Machinery | 2 38KR8 diesels |
| Power, h. p. | 800 |
| Max speed, kts | 11.6 |
| Fuel, t | diesel oil 20 |
| Endurance, nm(kts) | 1600(8.2) |
| Armour, mm | belt: 7 - 5, deck: 12 - 6, bulkheads: 6 - 4, turrets: 12, barbettes: 7, CT: 7 |
| Armament | 2 x 1 - 130/54 B-7, 2 x 2 - 45/43 41K, 4 x 4 - 7.6/94 |
| Complement | 86 |
Standard scale images
Udarnyy 1941
Graphics
Project history
First Soviet river monitor, designed and built specially for service on Dnepr, therefore she was intended for action against Polish monitors. Had atypical for river ships superfiring arrangement of 130mm turrets. As a whole she was valued as not too successful because of the excessive sizes for given theatre, weak antiaircraft armament and protection, and also considerable draught, called by building overload. Besides, 130mm naval guns badly approached for shooting on coastal targets, and because of the arrangement had considerable "dead zone" on aft bearings.
Ship protection
Ship had bulletproof protection.
Modernizations
None.
Naval service
Udarny 19.9.1941 was sunk by German aircraft at Tendra plait.


© 2007-2022 - navypedia.org