NAVYPEDIA Support the project with paypal
Photo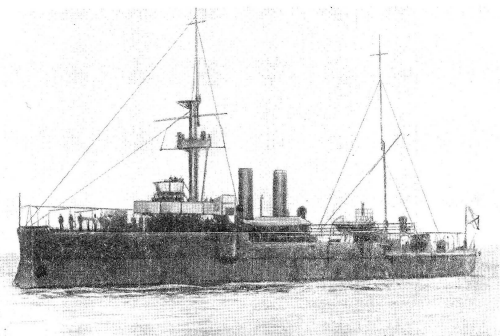 Gilyak
Ships
| Name | No | Yard No | Builder | Laid down | Launched | Comp | Fate |
| --- | --- | --- | --- | --- | --- | --- | --- |
| Гиляк [Gilyak] |   |   | New Admiralty, St. Petersburg | 10.1904 | 27.10.1906 | 10.1907 | scuttled 3.4.1918 |
| Кореец [Koreets] |   |   | Putilov Yd, St. Petersburg | 5.1906 | 23.5.1907 | 10.1907 | scuttled 20.8.1915 |
| Бобр [Bobr] |   |   | Nevsky Engine Wks, St. Petersburg | 2.1906 | 12.6.1907 | 7.1908 | captured by Germany 3.4.1918 |
| Сивуч [Sivuch] |   |   | Nevsky Engine Wks, St. Petersburg | 2.1906 | 1.8.1907 | 7.1908 | sunk 19.8.1915 |
Technical data
| | |
| --- | --- |
| Displacement normal, t | 960 |
| Displacement full, t | 1100 |
| Length, m | 66.5 |
| Breadth, m | 11.0 |
| Draught, m | 3.43 max |
| No of shafts | 2 |
| Machinery | 2 VTE, 4 Belleville boilers |
| Power, h. p. | 900 |
| Max speed, kts | 12 |
| Fuel, t | coal 130 |
| Endurance, nm(kts) | 1600(9) |
| Armour, mm | CT: 20 |
| Armament | 2 x 1 - 120/43 Canet, 4 x 1 - 75/48 Canet, 3 x 1 - 7.6/94, 40 mines |
| Complement | 140 |
Standard scale images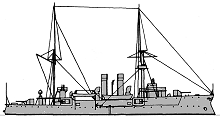 Bobr 1908
Graphics
Project history
Generally resembling a smaller Khivinets but cut down alt and with a military foremast and pole mainmast. Only the two forward 75mm were in casemates.
Modernizations
1913, Koreets: + 4 x 1 - 75/48 Canet

1917, Gilyak, Bobr: + 2 x 1 - 75/48 Canet
Naval service
Sivuch was sunk 19.8.1915 by the dreadnought Posen in the Gulf of Riga; Koreets escaped but ran aground and was blown up by her crew 20.8.1915 in Gulf of Riga. Bobr was taken over by the Germans 3.4.1918 as Bieber and in 1919 became the Estonian Lembit. Gilyak was blown up by own crew to avoid capture by Germans 3.4.1918 at Abo (Finland).
© 2007-2022 - navypedia.org