NAVYPEDIA Support the project with paypal
Photo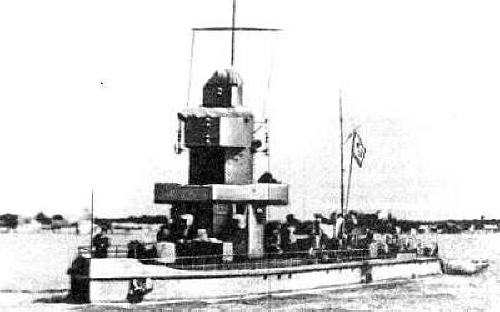 Aktivnyy
Ships
| Name | No | Yard No | Builder | Laid down | Launched | Comp | Fate |
| --- | --- | --- | --- | --- | --- | --- | --- |
| Активный [Aktivnyy], 4.1952- Кенга [Kenga] |   |   | 300 Yd (Leninskaya Kuznitsa), Kiev // 368 Yd (Kirov Yd), Khabarovsk | 1934 | 23.8.1934 | 10.1935 | TS 4.1952, stricken 6.1953 |
Technical data
| | |
| --- | --- |
| Displacement standard, t | 250 |
| Displacement full, t | 314 |
| Length, m | 50.7 |
| Breadth, m | 8.20 |
| Draught, m | 1.06 |
| No of shafts | 2 |
| Machinery | 2 4DR-24/38 diesels |
| Power, h. p. | 480 |
| Max speed, kts | 8.5 |
| Fuel, t | diesel oil 20 |
| Endurance, nm(kts) | 2754(8) |
| Armour, mm | belt: 30 - 16, deck: 16 - 4, bulkheads: 8 - 4, turret: 30, CT: 30 |
| Armament | 1 x 2 - 102/43 MK-2-4, 2 x 2 - 45/43 41K, 1 x 4 - 7.6/94, 1 x 2 - 7.6/94 |
| Complement | 68 |
Standard scale images

Aktivnyy 1943
Graphics
Project history
Original ship, in some kind successor of the first Ericsson`s Monitor. She had low-freeboard armoured hull completely deprived of superstructures on which the massive rotating turret with two 102mm guns was raised. The conning tower was consolidated on a turret roof and rotated together with it, that became one of the basic lacks of the design. On full speed ship created big stern wave and badly answered the helm. Though Aktivny intended for actions on Pripyat and upper part of Dnepr, in connection with circumstances complication in the Far East she was in the taken apart kind transported to Khabarovsk where she was completed.
Ship protection
Citadel and turret with CT had light splinterproof (mostly 30mm) armour.
Modernizations
1944: + 1 x 1 - 37/63 70K, 3 x 1 - 12.7/79.
Naval service
Kenga 11.6.1953 was stricken and transferred to the Amur shipping company, scrapped in 1957.


© 2007-2022 - navypedia.org