Ships
| Name | No | Yard No | Builder | Laid down | Launched | Comp | Fate |
| --- | --- | --- | --- | --- | --- | --- | --- |
| Кубань [Kuban'] |   |   | Kolomna S Yd | 5.1917 | 1918 | 8.1918 | minelayer, gunboat 2.1919, harbour vessel 9.1920, minesweeper 5.1921, stricken 10.1923 |
| Терек [Terek] |   |   | Kolomna S Yd | 5.1917 | 1918 | 9.1918 | minelayer, gunboat 2.1919, destroyed 24.5.1919 |
Technical data
| | |
| --- | --- |
| Displacement normal, t | 330 |
| Displacement full, t |   |
| Length, m | 51.4 |
| Breadth, m | 7.60 |
| Draught, m | 1.30 |
| No of shafts | 2 |
| Machinery | 2 diesels |
| Power, h. p. | 500 |
| Max speed, kts | 9 |
| Fuel, t | diesel oil |
| Endurance, nm(kts) |   |
| Armament | 2 x 1 - 102/60, 6 x 1 - 7.6/94, 60 mines |
| Complement | 67 |
Standard scale images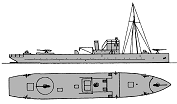 Kuban 1919
Project history
Multipurpose shallow-draught crafts intended for laying mines and anti-submarine nets. Lead Pripyat ` was converted from Volga diesel-engined tug Demosfen built in Nizhni Novgorod in 1914. Design appeared successful, and in 1916 the order for building of 8 more ships for Baltic has been given out. However, no any of them served on Baltic: Terek, Kuban` and Indigirka were completed in 1918-1919 as gunboats for Volga Flotilla, remaining ships were never completed. In May, 1917 the order on building of multi-purpose diesel-engined ships of Strengthened Demosfen class combining features of minelayers, netlayers and gunboats (500t, 1600hp, 14kts, 3 102mm/60 guns, 1 76mm AA gun, 60 mines) was given out. This program remained non-realised.
Modernizations
1920, Kuban: disarmed.

1921, Kuban: was armed with 2 x 1 - 75/48 Canet, mechanical minesweeping gear.
Naval service
Both ships were built as netlayers but commissioned as minelayers with poor mine capacity. Terek was badly damaged on river Kama in May, 1919 and abandoned. 25.5.1919 she was withdrawn by Whites but never repaired and destroyed them late 1919.