NAVYPEDIA Support the project with paypal
Ships
| Name | No | Yard No | Builder | Laid down | Launched | Comp | Fate |
| --- | --- | --- | --- | --- | --- | --- | --- |
| Щит [Shchit] |   |   | Russo-Baltic Wks, Reval | 4.1915 | 1916 | 6.1916 | sunk 19.12.1916 |
| Крамбол [Krambol], 3.1923- 1 Мая [1 Maya] |   |   | Russo-Baltic Wks, Reval | 3.1915 | 20.3.1916 | 6.1916 | captured by Finland 4.1918 (MP7), returned 9.1922, stricken 8.1925 |
| Капсюль [Kapsiul'] |   |   | Putilov Yd, Petrograd | 4.1915 | 1916 | 4.1916 | captured by Finland 4.1918 (MP12), returned 9.1922, TS 1925, board guard ship 6.1936, stricken 9.1936 |
| Груз [Gruz] |   |   | Putilov Yd, Petrograd | 4.1915 | 1916 | 4.1916 | captured by Finland 4.1918 (MP11), returned 9.1922, TS 5.1926, stricken 9.1936 |
Technical data
Displacement normal, t

200

Displacement full, t

Shchit, Krambol: 248

Kapsyul, Gruz: 271

Length, m

53.0

Breadth, m

6.60

Draught, m

Shchit, Krambol: 0.99

Kapsyul, Gruz: 1.20

No of shafts

2

Machinery

2 VTE, 2 Yarrow boilers

Power, h. p.

650

Max speed, kts

9

Fuel, t

coal 40

Endurance, nm(kts)
450(6)
Armament

1 x 1 - 75/48 Canet, 2 x 1 - 7.6/94, mechanical minesweeping gear

Complement

38
Standard scale images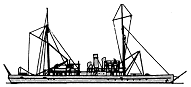 Kapsyul 1916
Project history
Built in Revel and Petrograd, design was created on the basis of gunboat Buriat hull. As a whole they appeared unsuccessful and never reached designed speed (11kts).
Modernizations
1936, Kapsiul: - minesweeping gear.
Naval service
Shchit was lost 19.12.1916 on a mine. Remaining ships in 1918 were captured by Finland, in 1922 returned to Russia and BU in 1930s.
© 2007-2022 - navypedia.org