Ships
| Name | No | Yard No | Builder | Laid down | Launched | Comp | Fate |
| --- | --- | --- | --- | --- | --- | --- | --- |
| Индигирка [Indigirka], 5.1920- Лейтенант Шмидт [Leytenant Shmidt], 5.1921- Индигирка [Indigirka] |   |   | Nizhegorodskiy Teplokhod, Nizhniy Novgorod | 5.1917 | 9.1917 | 2.1919 | gunboat, auxiliary cruiser 10.1919, minesweeper 5.1921, stricken 10.1923 |
| Московский Комсомолец [Moskovskiy Komsomolets] (ex-Исеть [Iset']), 2.1945 - Московский Комсомол [Moskovskiy Komsomol] |   |   | Nizhegorodskiy Teplokhod, Nizhniy Novgorod | 5.1917 | 12.1917 | 1920 // 1.1943 | completed mercantile, command ship 5.1942, gunboat 1.1943, TS 1.1946, stricken 9.1950 |
| Селенга [Selenga] |   |   | Nizhegorodskiy Teplokhod, Nizhniy Novgorod | 5.1917 | 12.1917 | --- | BU incomplete 1919 |
Technical data
| | |
| --- | --- |
| Displacement normal, t | 320 |
| Displacement full, t |   |
| Length, m | 47.5 |
| Breadth, m | 8.00 |
| Draught, m | 1.47 |
| No of shafts | 2 |
| Machinery | 2 diesels |
| Power, h. p. | 400 |
| Max speed, kts | 8.5 |
| Fuel, t | diesel oil |
| Endurance, nm(kts) |   |
| Armament | 2 x 1 - 75/48 Canet, 6 x 1 - 7.6/94, 60 mines |
| Complement | 67 |
Standard scale images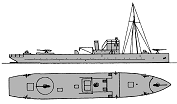 Nearly sister-ship Kuban 1919
Project history
Multipurpose shallow-draught crafts intended for laying mines and anti-submarine nets. Lead Pripyat ` was converted from Volga diesel-engined tug Demosfen built in Nizhni Novgorod in 1914. Design appeared successful, and in 1916 the order for building of 8 more ships for Baltic has been given out. However, no any of them served on Baltic: Terek, Kuban ` and Indigirka were completed in 1918-1919 as gunboats for Volga Flotilla, remaining ships were never completed. In May, 1917 the order on building of multi-purpose diesel-engined ships of Strengthened Demosfen class combining features of minelayers, netlayers and gunboats (500t, 1600hp, 14kts, 3 102mm/60 guns, 1 76mm AA gun, 60 mines) was given out. This program remained non-realised.

Laid down in 1916 in settlement Bor off Nizhniy Novgorod as netlayer Iset for Baltic Fleet, completed after Civil war.
Modernizations
1921, Indigirka: + mechanical minesweeping gear
Naval service
In 1930th Iset` as Moskovskiy Komsomolets she was used as training vessel for Moscow department of "Osoaviakhim". 8.4.1942 she was mobilised and 1.5.1942 commissioned by Baltic Fleet as command ship; 4.1.1943 re-classified to gunboat. 9.1.1946 Moskovskiy Komsomolets was converted to training ship, 14.9.1950 disarmed and sold for scrap 15.5.1957.