Photo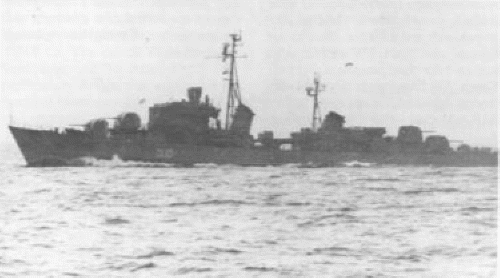 Project 42
Ships
| Name | No | Yard No | Builder | Laid down | Launched | Comp | Fate |
| --- | --- | --- | --- | --- | --- | --- | --- |
| Сокол [Sokol] |   | 100 | 820 Yd, Kaliningrad | 17.8.1949 | 11.9.1950 | 4.12.1952 | training hulk 8.1971 |
| Беркут [Berkut] |   | 101 | 820 Yd, Kaliningrad | 25.4.1950 | 2.4.1951 | 10.5.1952 | training hulk 8.1965 |
| Кондор [Kondor] |   | 102 | 820 Yd, Kaliningrad | 28.6.1950 | 27.5.1951 | 10.5.1952 | stricken 1.1970 |
| Гриф [Grif], 9.1965- Советский Азербайджан [Sovetskiy Azerbaydzhan] |   | 103 | 820 Yd, Kaliningrad | 18.9.1950 | 3.9.1951 | 25.10.1952 | Border Guard till 12.1953, accommodation hulk 12.1977 |
| Кречет [Krechet], 7.1970- Советский Дагестан [Sovetskiy Dagestan] |   | 104 | 820 Yd, Kaliningrad | 15.12.1950 | 27.11.1951 | 18.12.1952 | Border Guard till 12.1953, stricken 6.1977 |
| Орлан [Orlan], 12.1966- Советский Туркменистан [Sovetskiy Turkmenistan] |   | 105 | 820 Yd, Kaliningrad | 30.4.1951 | 9.5.1952 | 17.3.1953 | stricken 11.1976 |
| Лев [Lev] |   | 106 | 820 Yd, Kaliningrad | 30.4.1951 | 24.5.1952 | 17.3.1953 | training hulk 8.1971 |
| Тигр [Tigr] |   | 107 | 820 Yd, Kaliningrad | 1.7.1952 | 29.9.1952 | 25.4.1953 | stricken 9.1974 |
Technical data
| | |
| --- | --- |
| Displacement standard, t | 1339 |
| Displacement normal, t | 1679 |
| Length, m | 96.1 |
| Breadth, m | 11.0 |
| Draught, m | 3.96 |
| No of shafts | 2 |
| Machinery | 2 sets geared steam turbines, 2 KV-42 boilers |
| Power, h. p. | 27820 |
| Max speed, kts | 29.6 |
| Fuel, t | oil |
| Endurance, nm(kts) | 2810(13.7) |
| Armament | 4 x 1 - 100/56 B-34USM, 2 x 2 - 37/70 V-11M, 1 x 3 - 533 TT, 2 x 16 RBU-2500 Smerch ASWRL, 4 DCT, 2 DCR |
| Electronic equipment | Rif, Giuys-1MN, Visla radars, Tamir-5N sonar, Bizan'-4 ECM suite |
| Complement | 211 |
Standard scale images

Sokol 1952
Graphics
Project history
This was the SKR counterpart to Project 41. Although a preliminary TTZ for a new SKR (Project 7) was set by the main naval staff on 21 August 1943, by 1945 effort was being concentrated on a redesign of the existing Project 29. In 1945, Stalin argued that the Project 29 was the largest acceptable SKR, and that 900t would be a better limit on size. Although work on blueprints for the modified Project 29 was authorized on 30 January 1946, the ship was never built, and draft requirements for a new SKR were approved on 29 July 1946. The main roles were convoy escort, patrol work, the support of amphibious operations, and minelaying. Maximum displacement was set at 1800t, and required speed was 26-27kts; armament would comprise two twin 130mm mounts (SM-2, as in destroyers), two quad 45mm mounts, 12-25mm, a triple torpedo tube, four DC throwers, two DC tracks, and a Hedgehog (M-10).

For the first time since 1917, two design bureaus (TsKB-32 and TsKB-53) competed. Each produced versions with diesel and steam powerplants. The smallest, the TsKB-32 diesel design (two 6700bhp engines on each of two shafts) came out to 1860t, with an endurance of 5000nm at 15kts. The largest, the TsKB-53 steam design (13000shp on each shaft), came out to 1925t.

As in other Soviet designs of this period, the draft requirements proved over-ambitious, and at the next stage (TTZ) a displacement limit of 1300t was imposed, to be achieved by cutting armament (to four single 100mm guns, two twin 37 mm, the triple tubes, a pair of Mousetraps with 24 rockets each, and 2 depth charge tracks with 22 depth charges) endurance (from 5000nm to 2000nm), and stores capacity (from 20 to 10 days). As completed, the ships had four depth charge throwers in addition to the Mousetraps and depth charge tracks.

TsKB-32 won the competition with a steam design, and the final TTZ was approved on 21 June 1947. The sketch design for this Protect 42 escort was completed at the end of August 1947, but opinions on the ship's role were unsettled. Only late in 1947 did the naval staff agree to separate the SKR role from a planned minesweeping role. As built, Project 42 introduced prefabrication to Soviet practice (the hull was built in seven welded sections), and it had a dual-purpose main armament. This design also introduced DC current (which had not been used in Projects 29 and 30). Seakeeping was superior to that of both Project 29 and, on paper, to that of the planned successor, Project 50. Project 42 had twin rudders: tactical diameter at full speed was 4.7 lengths.

No formal record of the decision to discontinue production after eight ships has survived, but it seems likely that, as in the case of Project 41, the ships' size was considered unacceptable. The decision may have been made by Stalin himself.
Modernizations
None.
Naval service
No significant events.