NAVYPEDIA Support the project with paypal
Photo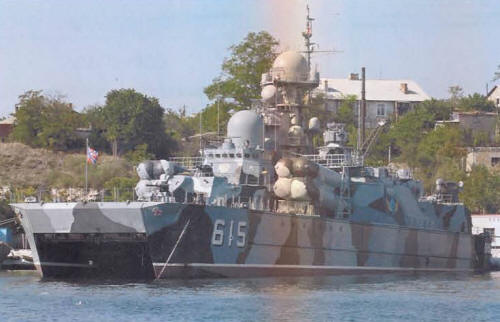 Bora 2008
Ships
| Name | No | Yard No | Builder | Laid down | Launched | Comp | Fate |
| --- | --- | --- | --- | --- | --- | --- | --- |
| МРК-27 [MRK-27], 3.1992- Бора [Bora] | 615 | 208 / 501 | Zelenodolsk SYd |   | 26.9.1988 | 30.12.1989 | in service (2019) |
| Самум [Samum] (ex-МРК-17 [MRK-17]) | 616 | 502 | Zelenodolsk SYd | 9/1991 | 12.10.1992 | 3/1992 | in service (2019) |
Technical data
| | |
| --- | --- |
| Displacement standard, t | 897 |
| Displacement normal, t | 1083 |
| Length, m | 65.6 |
| Breadth, m | 17.2 |
| Draught, m | 3.57 |
| No of shafts | 2 twin propellers + 2 propellers + 2 air propellers for cushion |
| Machinery | 2 M-10-1 gas turbines + 2 M-511A diesels + 2 M-504A diesels |
| Power, h. p. | 40000 + 20000 + 9500 |
| Max speed, kts | 52.7 |
| Fuel, t | diesel oil |
| Endurance, nm(kts) | 2500(12) |
| Armament | 2 x 4 P-100 Moskit SSM (8 3M80), 1 x 2 Osa-MA2 SAM (20 9M33M1/5), 2 x 1 Strela-3 SAM (8 9M36), 1 x 1 - 76/59 AK-176M, 2 x 6 - 30/54 AK-630M |
| Electronic equipment | 34K1 Monolit, MR-352 Pozitiv, 4R-33AM, MR-123-01 Vympel-A, MR-244-1 Ekran-1 radars, Vympel-R2, MP-405-1 ECM suites, 2x PK-16, 4x PK-10 Smely decoy RL |
| Complement | 68 |
Standard scale images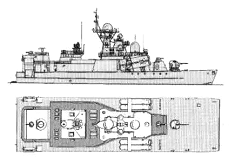 Bora 2010
Graphics
Project history
Prototypes of successors for Project 1234, but building of these very expensive ships was really stopped after collapse of Soviet Union. Officially Bora was commissioned 12.5.1997, Samum 26.2.2000. Third ship was cancelled before her keel was laid officially. Ships are really catamarans with side skegs (sidewalls), air is pumped to the space between the skegs. Ships can move using gas turbine and cruising diesels with air cushion simultaneously, using only cruising diesels and air cushion, only cruising diesels with no cushion. They can also move using only air cushion propellers keeping 3kts speed. They have high seagoing qualities and have comfortable accommodation for their crews.
Modernizations
2000s, both: - MR-244-1 Ekran-1 radar; + MR-231-1 radar
Naval service
No significant events.
© 2007-2022 - navypedia.org