Photo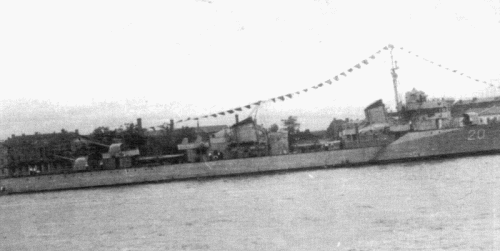 Opytnyy 1949  
Ships
| Name | No | Yard No | Builder | Laid down | Launched | Comp | Fate |
| --- | --- | --- | --- | --- | --- | --- | --- |
| Опытный [Opytnyy] (ex-Серго Орджоникидзе [Sergo Ordzhonikidze]) |   | 500 | 190 Zhdanov Yd, Leningrad | 6.1935 | 8.12.1936 | 9.1941 | stricken 2.1953 |
Technical data
| | |
| --- | --- |
| Displacement standard, t | 1572 |
| Displacement full, t | 2016 |
| Length, m | 113.5 |
| Breadth, m | 10.2 |
| Draught, m | 3.40 mean 4.20 max |
| No of shafts | 2 |
| Machinery | 2 geared steam turbines sets, 4 Ramsin boilers |
| Power, h. p. | 70000 |
| Max speed, kts | 42 |
| Fuel, t | oil 372 |
| Endurance, nm(kts) | 1370(18) |
| Armament | 3 x 1 - 130/50 B-13, 4 x 1 - 45/43 21K, 3 x 1 - 37/63 70K, 1 x 2 - 12.7/90, 2 x 1 - 12.7/79, 2 x 4 - 533 TT, 2 DCR (10), 60 mines |
| Electronic equipment | Mars hydophone |
| Complement | 262 |
Standard scale images

Opytnyy 1941
Graphics
Project history
Designed since 1934 to receive destroyer in the dimensions of project 7, but with 45kts speed and the endurance increased on 20%. It was supposed to achieve it at the expense of fitting of supercharged Ramsin boilers and wide application of welding. On armament structure originally she would repeat project 7, but subsequently it has been decided to install 3 twin 130mm B-31 mounts which designing only was conducted. Because of the arisen overload the designed speed should be lowered to 42kts, and AA armament was limited by 2 45mm/46 guns. The electric equipment, for the first time in Soviet fleet, should work on AC. For boilers control in Germany the automatic system was ordered, but it have appeared to the disabled. Mooring trials (12/1939-8/1940) were conducted at manual boiler control. 27.11.1940 Opytny made the first trial sea voyage. Nevertheless, to the beginning of Great Patriotic War machinery was not in the efficient condition. The designed armament also was absent, and destroyer received 3 single 130mm guns. On conducted under limited program trials Opytny could only for short term reach 35kts, but 17.8.1941 she was commissioned.
Modernizations
10.1941: - 3 x 1 - 130/50.

6/1942: + 3 x 1 - 130/50 B-13
Naval service
In March, 1944 Opytny was laid up; 20.6.1945 she was deduced from battle structure and reclassified to test ship. After war some attempts to complete the ship were undertaken, but finally in 1955 she was broken up.