NAVYPEDIA Support the project with paypal
Photo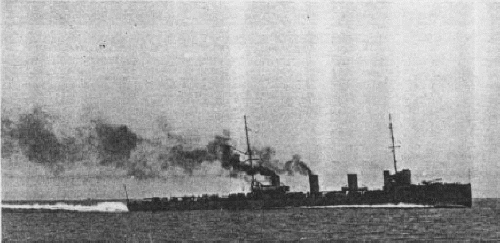 Novik 1913
Ships
| Name | No | Yard No | Builder | Laid down | Launched | Comp | Fate |
| --- | --- | --- | --- | --- | --- | --- | --- |
| Новик [Novik], 7.1926- Яков Свердлов [Yakov Sverdlov] |   |   | Putilov, St. Petersburg | 8.1910 | 4.7.1911 | 9.1913 | sunk 28.8.1941 |
Technical data
| | |
| --- | --- |
| Displacement normal, t | 1280 |
| Displacement full, t | 1595 |
| Length, m | 102.4 |
| Breadth, m | 9.53 |
| Draught, m | 3.53 |
| No of shafts | 3 |
| Machinery | 3 AEG steam turbines, 6 Vulkan boilers |
| Power, h. p. | 35100 |
| Max speed, kts | 36 |
| Fuel, t | oil 418 |
| Endurance, nm(kts) | 1800(16) |
| Armament | 4 x 1 - 102/60, 4 x 1 - 7.6/94, 4 x 2 - 450 TT, 80 mines |
| Complement | 113 |
Standard scale images

Novik 1914
Graphics
Project history
Large batch of turbine-driven destroyers of Imperial Russian Navy. Built in many series with foreign technical help and possessed a number inter-subclass differences. Common for all ships were artillery (102mm/60 guns), powerful torpedo side salvo (from 8 to 12 450mm torpedoes in twin-and triple mounts) and, except for a lead ship, twin-shaft turbine machinery and a three-funnel outline profile. Novik was built under the design of Putilov plant and was equipped with triple-shaft Curtis-AEG-Vulkan machinery and 6 Vulkan boilers. At the moment of commission she was one of the largest (1260t), well armed (4 102mm guns and 4 twin 450mm TTs) and fastest ships of this type in the world. On trials she shown average 36.3kts speed (maximum 37.3kts) at 41910hp. In 1920s-1930s ship passed modernization and was converted to division leader.
Modernizations
1929: - 4 x 1 - 7.6/94, 4 x 2 - 450 TT; + 1 x 1 - 76/28 8K, 3 x 3 - 450 TT, 2 DCR (8), mine stowage decreased to 58

1940: + 4 x 1 - 12.7/79
Naval service
Yakov Sverdlov was lost 28.8.1941 on German mine en route from Tallin to Kronshtadt.
© 2007-2022 - navypedia.org