Photo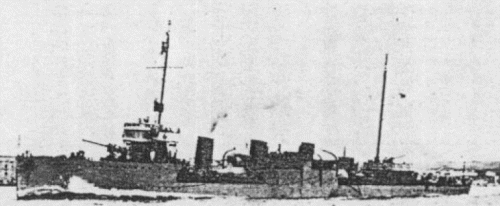 Petrovskiy 1930s
Ships
| Name | No | Yard No | Builder | Laid down | Launched | Comp | Fate |
| --- | --- | --- | --- | --- | --- | --- | --- |
| Фидониси [Fidonisi] (ex-Феодониси [Feodonisi]) |   |   | Naval, Nikolayev | 11.1915 | 31.5.1916 | 6.1917 | scuttled 18.6.1918 |
| Керчь [Kerch'] |   |   | Naval, Nikolayev | 11.1915 | 31.5.1916 | 7.1917 | scuttled 19.6.1918 |
| Гаджибей [Gajibey] |   |   | Naval, Nikolayev | 2.1915 | 27.8.1916 | 9.1917 | scuttled 18.6.1918 |
| Калиакрия [Kaliakriya], 11.1926- Дзержинский [Dzerzhinskiy] | 11 |   | Naval, Nikolayev | 11.1915 | 27.8.1916 | 11.1917 | scuttled 18.6.1918, re-commissioned 8.1929, sunk 14.5.1942 |
| Цериго [Tserigo] |   |   | Naval, Nikolayev | 1915 | 3.4.1917 | --- | interned incomplete by France 29.12.1920 |
| Незаможный [Nezamozhnyy] (ex-Занте [Zante]), 4.1926- Незаможник [Nezamozhnik] |   |   | Naval, Nikolayev | 5.1916 | 3.4.1917 | 11.1923 | target 1.1949 |
| Петровский [Petrovskiy] (ex-Корфу [Korfu]), 6.1939- Железняков [Zheleznyakov] |   |   | Naval, Nikolayev | 7.1916 | 23.10.1917 | 6.1925 | to Bulgaria 12.1947-9/1949 (Железняков [Zheleznyakov]), accommodation ship 4.1953 |
| Шаумян [Shaumian] (ex-Левкас [Levkas]) |   |   | Naval, Nikolayev | 6.1916 | 23.10.1917 | 12.1925 | wrecked 3.4.1942 |
Technical data
Displacement normal, t

1326

Displacement full, t

1580

Nezamozhnyy, Petrovskiy, Shaumian: 1745 - 1760

Length, m

92.5

Breadth, m

9.07

Draught, m

3.81

No of shafts

2

Machinery

2 Parsons steam turbines, 5 Thornycroft boilers

Power, h. p.

29000

Max speed, kts

33

Fuel, t

oil 330

Endurance, nm(kts)
1210(16)
Armament

4 x 1 - 102/60, 1 x 1 - 40/39 Vickers, 4 x 3 - 450 TT, 80 mines

Nezamozhnyy, Petrovskiy, Shaumian: 4 x 1 - 102/60, 2 x 1 - 76/28 8K, 2 x 1 - 7.6/94, 4 x 3 - 450 TT, 2 DCR (8), 46 - 60 mines

Complement

136
Standard scale images

Zheleznyakov 1940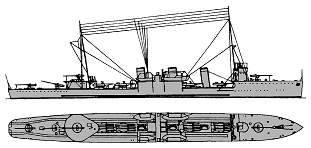 Kerch` 1917
Graphics
Project history
Large batch of turbine-driven destroyers of Imperial Russian Navy. Built in many series with foreign technical help and possessed a number inter-subclass differences. Common for all ships were artillery (102mm/60 guns), powerful torpedo side salvo (from 8 to 12 450mm torpedoes in twin-and triple mounts) and, except for a lead ship, twin-shaft turbine machinery and a three-funnel outline profile. Novik was built under the design of Putilov plant and was equipped with triple-shaft Curtis-AEG-Vulkan and 6 Vulkan boilers. At the moment of commission she was one of the largest (1260t), well armed (4 102mm guns and 4 twin 450mm TTs) and fastest ships of this type in the world. On trials she shown average 36.3kts speed (maximum 37.3kts) at 41910hp. On her construction basis for Black Sea Fleet series of Schastlivy class was designed. They differed by machinery structure (2 shafts and 5 boilers), moderated to 30kts speed and armament structure: 3 102mm guns and 5 twin TTs. They, in turn, have formed a basis for design of Baltic Fleet Orfey, Leytenant Ilyin and Gavriil classes. Number of boilers on them was moderated to four, and armament in an ultimate variant included 4 102mm guns and 3 triple TTs. The engineering design was developed with the help of Blohm und Voss and Vulkan. At identical general arrangement, dimensions and appearance destroyers differed with type of turbines and boilers: Orfey class had Curtis-AEG-Vulkan turbines and Normand-Vulkan boilers; Leytenant Ilyin class Brown-Boveri-Parsons turbines and Normand boilers; Gavriil class Curtiss-AEG-Vulkan turbines and Normand boilers. On trials the majority of the ships exceeded 31kts.

Design of Izyaslav class was developed by Lang and Sons with the help of Augustin Normand, differed in the increased dimensions, demanded by installation of the fifth boiler, and strengthened armament (in an ultimate variant 5 102mm guns and 3 triple TTs). They were equipped with Brown-Boveri-Parsons turbines and Normand boilers. A series has appeared last from constructed was "Ushakov" (ships received names in honour of victories constrained by F. F. Ushakov). It was development of the previous Derzkiy class, created, in turn, at participation of Thornycroft. Ships of this series differed by machinery structure (Brown-Boveri-Parsons turbines and Thornycroft boilers) and the most strong among all Noviks armament (4 102mm guns and 4 triple 450mm TTs).

Valuing these destroyers as most successful among given type ships, Naval General Staff in 1916 ordered 12 more ships, however only three were laid down. After Civil war they were broken up on slipways.
Modernizations
1929, Dzerzhinskiy: - 1 x 1 - 40/39; + 2 x 1 - 76/28 8K, 2 x 1 - 7.6/94, 2 DCR (8), mine stowage was decreased to 40 - 60.

1939 - 1941, all survived: - 2 x 1 - 7.6/94; + 4 x 1 - 12.7/79

1942, Nezamozhnik, Zheleznyakov: - 2 x 1 - 12.7/79; + 2 x 1 - 45/65 21KM, 5 x 1 - 37/63 70K, 2 x 1 - 20/70 Oerlikon Mk II/IV

1/1946: 4 x 1 - 102/60, 2 x 1 - 76/30 8K, 2 x 1 - 45/69 21KM, 5 x 1 - 37/73 70K, 2 x 1 - 20/70 Mk III, 2 x 1 - 12.7/79, 4 x 3 - 450 TT, 2 DCR (8), 46 - 60 mines
Naval service
Kerch`, Fidonisi, Kaliakriya and Gadzhibey were scuttled by crews 18-19.6.1918 by order of Lenin at Novorossiysk and Tuapse. Incomplete Tserigo was withdrawn by Whites to Bizerte in November, 1920 where she was broken up in the beginning of 1930th. Kaliakriya in 1925 was salvaged and repaired.

Shaumyan 3.4.1942 ran aground at Gelendzhik; she was ultimately wrecked by a storm and German aircraft.Dzerzhinskiy 13.5.1942 was sunk on Soviet mine off Sevastopol.