Photo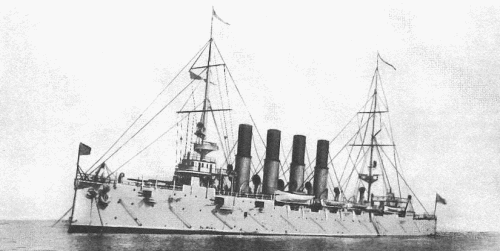 Varyag soon after completion
Ships
| Name | No | Builder | Laid down | Launched | Comp | Fate |
| --- | --- | --- | --- | --- | --- | --- |
| Варяг [Variag] |   | Cramp, Philadelphia, USA | 22.5.1899 | 31.10.1899 | 15.1.1901 | scuttled 9.2.1904, to Japan (宗谷 [Soya]), returned 4.4.1916, captured by UK 21.12.1917 (barrack ship V342) |
Technical data
| | |
| --- | --- |
| Displacement normal, t | 6500 |
| Displacement full, t | 7022 |
| Length, m | 129.8 |
| Breadth, m | 15.9 |
| Draught, m | 6.30 max |
| No of shafts | 2 |
| Machinery | 2 VTE, 30 Niclausse boilers |
| Power, h. p. | 21000 |
| Max speed, kts | 23.2 |
| Fuel, t | coal 1350 |
| Endurance, nm(kts) | 3680(10) |
| Armour, mm | Nickel steel; deck: 38 with 76mm slopes, ammunition hoists: 38, CT: 152 |
| Armament | 12 x 1 - 152/44 Canet, 12 x 1 - 75/48 Canet, 2 x 1 - 63/17 Baranovski, 8 x 1 - 47/40 Hotchkiss, 2 x 1 - 37/20 Hotchkiss, 6 - 381 TT (aw, 1 bow, 4 beam, 1 stern), 22 mines |
| Complement | 580 |
Standard scale images

Varyag 1902
Graphics
Project history
A four-funnelled cruiser with a forecastle deck extending to between the first two funnels. The 152mm guns had no shields and were mounted two abreast forward and aft, and the other eight in sponsons from the upper deck, four abaft the foremast and four by the mainmast. Except for two right aft, the 75mm were at upper deck level.
Ship protection
The protective deck was 38mm with 76mm slopes, the CT 152mm, ammunition hoists 38mm and there was a patch of 76mm protection for the bow and stern TT.
Modernizations
1916, was armed with: 12 x 1 - 152/44 Canet, 10 x 1 - 75/48 Canet, 2 x 1 - 47/30 21/2pdr Hotchkiss, 2 - 381 TT (beam)
Naval service
Varyag was badly damaged by Japanese cruiser Asama at Chemulpo 9.2.1904 and was scuttled after the action. She was raised and served in the Japanese Navy as the Soya. Sold to Russia in 1916, she was sent to the White Sea and in February 1917 arrived at Liverpool for repairs that were never carried out, the Varyag remaining as a hulk in British waters until scrapped.