Photo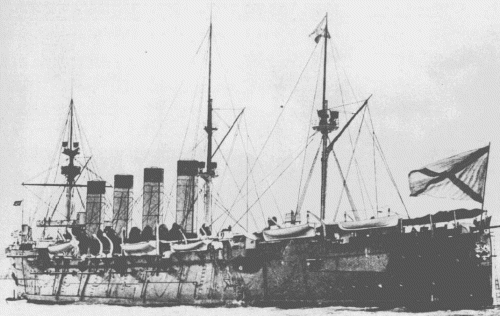 Rossiya 1897
Ships
| Name | No | Yard No | Builder | Laid down | Launched | Comp | Fate |
| --- | --- | --- | --- | --- | --- | --- | --- |
| Россия [Rossiya] |   |   | Baltic Wks, St. Petersburg | 1.6.1895 | 12.5.1896 | 25.9.1897 | sold 7.1922 |
Technical data
| | |
| --- | --- |
| Displacement normal, t | 12130 |
| Displacement full, t | 12195 |
| Length, m | 140.6 pp 144.2 wl 147.8 oa |
| Breadth, m | 20.9 |
| Draught, m | 7.92 max |
| No of shafts | 3 |
| Machinery | 3 VTE, 32 Belleville boilers |
| Power, h. p. | 17000 (14500 + 2500) |
| Max speed, kts | 19.7 |
| Fuel, t | coal 2200 |
| Endurance, nm(kts) | 7740(10) |
| Armour, mm | Harvey-nickel steel; belt: 203 - 127, bulkhead: 178, glacises: 127, deck: 76 - 51, casemates: 127 - 38, CT: 305 |
| Armament | 4 x 1 - 203/43, 16 x 1 - 152/44 Canet, 12 x 1 - 75/48 Canet, 20 x 1 - 47/40 Hotchkiss, 18 x 1 - 37/20 Hotchkiss, 5 - 381 TT (1 bow, 4 beam) |
| Complement | 839 |
Standard scale images

Rossiya 1904
Graphics
Project history
High-endurance armoured cruiser intending for actions on enemy trading routes. An unfortunate design, though an improvement on the Riurik. At full power only the 2 wing shafts were used, giving the ihp quoted in the table, as there was insufficient boiler power to use the 2500ihp centre engine in addition, and this was kept for cruising with the wing screws disconnected. The Rossiya was sheathed and coppered.
Ship protection
Main 2.6m-high belt protected 119.8m length and had 203mm thickness (tapering to 127mm at lower edge) between 203mm gun sponsos, short parts fwd from fore sponsons and aft from aft sponsons had 152mm thickness, aft part of hull (between 152mm part and stern) was protected by 127mm belt. Belt was closed by fore 178mm bulkhead in 25m from the stem. Flat protective 76mm deck (51mm near centerline) covered main belt, this deck has turtleback form fwd from fore 178mm bulkhead and had 76 - 63mm thickness. Engines had 127mm glacises. Fore 203mm guns were protected by 51mm fore transverse bulkhead only, 152mm main battery had 127mm fore and aft transverse bulkheads and 38mm inner transverse bulkheads. Aft pair of 152mm guns were protected by fore transverse 38mm bulkheads. Gun hoists were protected by 76mm armour. CT had 305mm sides.
Modernizations
1904: - 6 x 1 - 75/48; + 6 x 1 - 152/44 Canet

1909: central shaft with cruising VTE was removed (2 VTE, 32 Belleville boilers, 14500hp, 20.4kts, coal stowage rose to 2530t); - 20 x 1 - 47/40, 18 x 1 - 37/20, 5 - 381 TT; + 9 x 1 - 75/48 Canet, 200 - 300 mines

1915:- 4 x 1 - 203/43, 8 x 1 - 152/44, 15 x 1 - 75/48; + 6 x 1 - 203/49, 2 x 1 - 47/40 Hotchkiss AA
Naval service
After the Civil war cruiser was disarmed and broken up in 1922.