Photo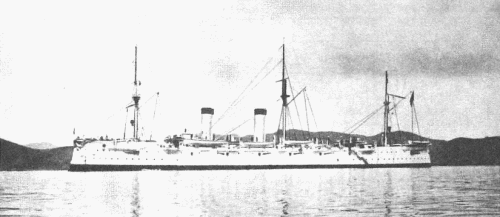 Riurik
Ships
| Name | No | Yard No | Builder | Laid down | Launched | Comp | Fate |
| --- | --- | --- | --- | --- | --- | --- | --- |
| Рюрик [Riurik] |   |   | Carr & McFerson, St. Petersburg | 31.5.1890 | 3.11.1892 | 16.11.1895 | sunk 14.8.1904 |
Technical data
| | |
| --- | --- |
| Displacement normal, t | 10933 |
| Displacement full, t | 11690 |
| Length, m | 125.6 pp 130.1 wl 132.6 oa |
| Breadth, m | 20.4 |
| Draught, m | 7.90 |
| No of shafts | 2 |
| Machinery | 2 VTE, 8 cylindrical boilers |
| Power, h. p. | 13250 |
| Max speed, kts | 18 |
| Fuel, t | coal 1933 |
| Endurance, nm(kts) | 6700(10) |
| Armour, mm | steel; belt: 254 - 203, battery bulkheads: 102, shields: 51, deck: 76 - 51, CT: 152 |
| Armament | 4 x 1 - 203/33, 16 x 1 - 152/44 Canet, 6 x 1 - 120/43 Canet, 2 x 1 - 63/17 Baranovski, 10 x 1 - 47/40 Hotchkiss, 12 x 5 - 37/17 Hotchkiss, 6 - 381 TT (aw, 1 bow, 4 beam, 1 stern) |
| Complement | 683 |
Standard scale images

Ryurik 1895
Graphics
Project history
Although the Riurik caused a considerable stir when first built, she was a thoroughly unsatisfactory design with only half her armament available on the broadside, inadequate protection and poor compartmentation. Riurik was barque-rigged and sheathed and coppered.
Ship protection
The belt was 98m long, 2.1m wide and 254-203mm reduced to 127mm at the lower edge and ending in 254-229mm bulkheads. The 203mm guns in sponsons, the 152mm on the main deck and the 120mm on the upper deck were protected by shields while the heavy 102mmm bulkheads gave some protection to 14 of the 152mm. The armour deck was 51mm over the belt, increased to 76mm at ship ends. CT had 152mm sides and 76mm communication tube.
Modernizations
1900s: - 4 x 1 - 47/40, 12 x 5 - 37/17; + 10 x 1 - 37/20 Hotchkiss
Naval service
Riurik was sunk 14.8.1904 at Ulsan by 203mm and 152mm shells from the Japanese cruisers.