Photo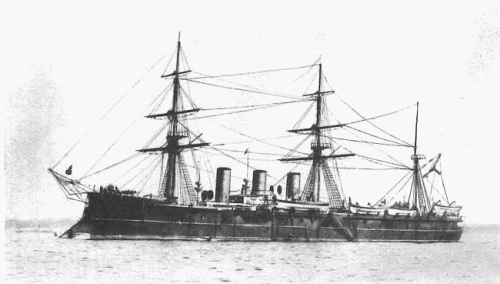 Pamiat' Azova
Ships
| Name | No | Yard No | Builder | Laid down | Launched | Comp | Fate |
| --- | --- | --- | --- | --- | --- | --- | --- |
| Память Азова [Pamiat' Azova], 2.1909- Двина [Dvina], 4.1917- Память Азова [Pamiat' Azova] |   |   | Carr & McFerson, St. Petersburg | 16.3.1886 | 1.6.1888 | 1890 | TS 10.1907, depot ship 5.1919 |
Technical data
| | |
| --- | --- |
| Displacement normal, t | 6674 |
| Displacement full, t |   |
| Length, m | 117.2 |
| Breadth, m | 17.2 |
| Draught, m | 8.18 max |
| No of shafts | 2 |
| Machinery | 2 VTE, 6 cylindrical boilers |
| Power, h. p. | 8500 |
| Max speed, kts | 17 |
| Fuel, t | coal 1200 |
| Endurance, nm(kts) | 1600(10) |
| Armour, mm | compound; belt: 152 - 102, shields: 51, deck: 63 - 38, CT: 38 |
| Armament | 2 x 1 - 203/33, 13 x 1 - 152/32 obr. 1877, 2 x 1 - 63/17 Baranovski, 7 x 1 - 47/40 Hotchkiss, 8 x 5 - 37/17 Hotchkiss, 3 - 381 TT (aw, 1 bow, 2 beam) |
| Complement | 640 |
Standard scale images

Pamiat' Azova 1890
Graphics
Project history
A three-funnelled ship, sheathed and coppered and originally barque-rigged without royals.
Ship protection
The belt stopped 14m from the stem and 11m from the stern and extended from 0.6m above to 1.5m below lwl. It was 152mm amidships, reduced to 102mm fore and aft and at the lower edge, and ending in 102mm bulkheads. The 203mm guns in sponsons had small 51mm shields while the main deck 152mm were unprotected. The armour deck was 63mm reduced to 38mm at the ends.
Modernizations
1904: boilers were replaced by 18 Belleville (5664hp, 16kts)

1907: all armament consisted of 4 x 1 - 47/40 Hotchkiss
Naval service
Pamyat' Azova was converted to TS 10.10.1907. In the time of WWI she was used also as depot ship for submarines and HQ ship. 8.5.1919 she was re-rated as depot hulk and 19.8.1919 torpedoed and sunk by British MTB CMB79 at Kronshtadt.