Photo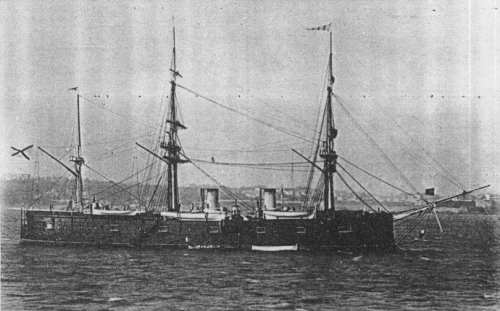 Dmitriy Donskoy
Ships
| Name | No | Yard No | Builder | Laid down | Launched | Comp | Fate |
| --- | --- | --- | --- | --- | --- | --- | --- |
| Дмитрий Донской [Dmitriy Donskoy] |   |   | New Admiralty, St. Petersburg | 12.10.1880 | 30.8.1883 | 1885 | scuttled 29.5.1905 |
Technical data
| | |
| --- | --- |
| Displacement normal, t | 5800 |
| Displacement full, t | 6200 |
| Length, m | 90.4 wl 93.4 oa |
| Breadth, m | 15.9 |
| Draught, m | 7.85 max |
| No of shafts | 1 |
| Machinery | 2 VC, 8 cylindrical boilers |
| Power, h. p. | 7000 |
| Max speed, kts | 16.5 |
| Fuel, t | coal 990 |
| Endurance, nm(kts) | 3300(10) |
| Armour, mm | compound; belt: 152 - 114, deck: 13 |
| Armament | 2 x 1 - 203/28 obr. 1877, 14 x 1 - 152/25 obr. 1877, 4 x 1 - 87/21 4pdr obr. 1877, 14 x 5 - 37/17 Hotchkiss, 5 - 381 TT (aw, 1 bow, 4 beam) |
| Complement | 571 |
Standard scale images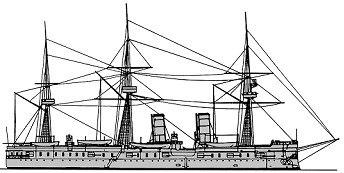 Dmitriy Donskoy 1897
Graphics
Project history
According to official British reports the Dmitriy Donskoy, which originally had a heavy full rig, was not well subdivided and if the very large engine room had flooded she would have sunk.
Ship protection
There was a complete 152mm belt, with a 114mm lower edge from 0.7m above to 1.7m below lwl. The armour deck was 13mm.
Modernizations
1895: was completely rearmed with 6 x 1 - 152/44 Canet, 10 x 1 - 120/43 Canet, 2 x 1 - 63/17 Baranovski, 6 x 1 - 47/40 Hotchkiss, 10 x 1 - 37/20 Hotchkiss, 5 - 381 TT (1 bow, 4 beam)
Naval service
Dmitriy Donskoy was badly damaged by Japanese cruisers and destroyers 27/05/1905 (the next day after Tsushima battle) and at next morning scuttled by own crew off Dajelet Island, becoming the last victim of Tsushima.