Photo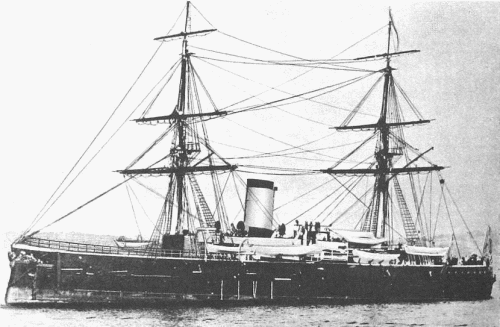 Admiral Nakhimov with full rig
Ships
| Name | No | Yard No | Builder | Laid down | Launched | Comp | Fate |
| --- | --- | --- | --- | --- | --- | --- | --- |
| Адмирал Нахимов [Admiral Nakhimov] |   |   | Carr & McFerson, St. Petersburg | 19.12.1883 | 2.11.1885 | 21.9.1888 | scuttled 28.5.1905 |
Technical data
| | |
| --- | --- |
| Displacement normal, t | 7762 |
| Displacement full, t | 8524 |
| Length, m | 97.8 pp 101.5 wl 103.3 oa |
| Breadth, m | 18.6 |
| Draught, m | 8.40 max |
| No of shafts | 2 |
| Machinery | 2 VC, 12 cylindrical boilers |
| Power, h. p. | 8000 |
| Max speed, kts | 17 |
| Fuel, t | coal 1200 |
| Endurance, nm(kts) | 4400(10) |
| Armour, mm | compound; belt: 254, bulkhedas: 229, barbettes: 203 - 178, ammunition hoists: 76, shields: 63 - 51, deck: 76 - 51, CT: 152 - 51 |
| Armament | 4 x 2 - 203/33, 10 x 1 - 152/32 obr. 1877, 4 x 1 - 87/21 4pdr obr. 1877, 6 x 5 - 47/22 Hotchkiss, 4 x 5 - 37/17 Hotchkiss, 3 - 381 TT (aw, 2 beam, 1 stern), 40 mines |
| Complement | 570 |
Standard scale images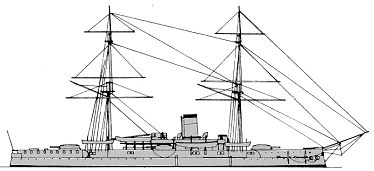 Admiral Nakhimov 1895
Graphics
Project history
The Admiral Nakhimov was in many ways a close copy of the Imperieuse and Warspite, of which the Russians had managed to obtain drawings, though they contrived, by alteration of bunkers and hatches, to impair the protection of the machinery. She was sheathed and coppered and originally rigged as a brig.
Ship protection
The 254mm belt was 45m long with a 152mm lower edge and extended from about 0.9m above to 1.5m below lwl, ending in 254-152mm bulkheads. The barbettes were 203mm (wing 203 - 178mm) to the main deck with 76mm ammunition tubes below, and 63-51mm shields, but the 152mm guns on the main deck were unprotected. The armour deck was 51mm over the belt and 76mm at the level of the belt lower edge fore and aft. CT had 152mm sides and 51mm roof.
Modernizations
1899: reboilered; - 4 x 1 - 87/21, 6 x 5 - 47/22, 4 x 5 - 37/17; + 2 x 1 - 63/17 Baranovski, 12 x 1 - 47/40 Hotchkiss, 6 x 1 - 37/20 Hotchkiss
Naval service
Admiral Nakhimov escaped serious shell damage at Tsushima but was torpedoed during the night and her crew opened the sea-valves on surrendering to the Japanese N of Tsusima Islands.