NAVYPEDIA Support the project with paypal
Photo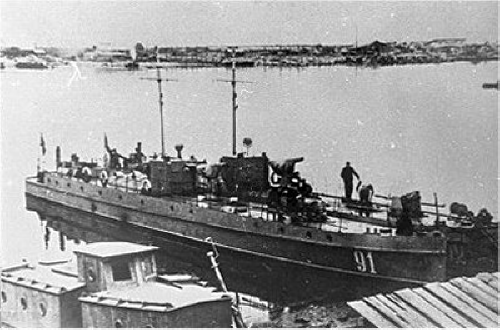 No91 and No92
Ships
Names
Builders
Commissioned
Losses
Transfers
Discarding

Тревога [Trevoga], 9.1934- БК-101 [BK-101], 4.1937- №91 [No91], 2.1944- БК-91 [BK-91]

Партизан [Partizan], 9.1934- БК-102 [BK-102], 4.1937- №92 [No92], 2.1944- БК-92 [BK-92]

S Yd, Kolomna: Trevoga, Partizan

1932: Trevoga, Partizan

none

none

1950s: BK-91, 92
Technical data
| | |
| --- | --- |
| Displacement standard, t | 45 |
| Displacement full, t | 55.6 |
| Length, m | 32.0 |
| Breadth, m | 3.40 |
| Draught, m | 0.85 |
| No of shafts | 2 |
| Machinery | 2 petrol engines |
| Power, h. p. | 100 |
| Max speed, kts | 10 |
| Fuel, t | petrol 3.3 |
| Endurance, nm(kts) | 600(12) |
| Armour, mm | belt: 5, CT: 5 |
| Armament | 1 x 1 - 76/28 8K, 2 x 1 - 7.6/94 |
| Complement | 13 |
Graphics
Project history
Original project of P. P. Shidlovskiy: armoured boats with gyroscopic righting system and clearing of 102mm/60 gun recoil. They were laid down in 1920 in Kolomna, in 1922 were suspended and completed in 1930-1932 without gyroscopes and 76mm gun instead of 102mm.
Ship protection
Bullet-proof protection.
Modernizations
1941, both: petrol engines were replaced by 2 GAM-34 (1600hp, 22kts).
Naval service
No significant events.
© 2007-2022 - navypedia.org