NAVYPEDIA Support the project with paypal
Photo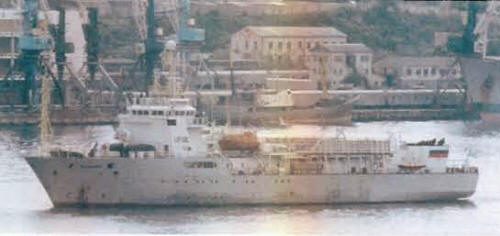 Manchzhur 2003  
Ships
| Name | No | Yard No | Builder | Laid down | Launched | Comm | Fate |
| --- | --- | --- | --- | --- | --- | --- | --- |
| Командор [Komandor] | 157 | 01695 | Danyard, Frederikshavn, Denmark |   | 1.12.1988 | 1.9.1989 // 8.1998 | in service (2019) |
| Шкипер Гек [Shkiper Gek] |   | 01696 | Danyard, Frederikshavn, Denmark |   |   | 20.12.1989 // 8.1998 | in service (2019) |
| Херлуф Бидструп [Kherluf Bidstrup] |   | 01697 | Danyard, Frederikshavn, Denmark |   |   | 9.2.1990 // 8.1998 | in service (2019) |
| Маньчжур [Manchzhur] | 169 | 01698 | Danyard, Frederikshavn, Denmark |   |   | 6.7.1990 // 8.1998 | in service (2019) |
Technical data
Displacement standard, t

01695: 2019

01696: 1954

01697, 01698: 1979

Displacement full, t

01695: 2553

01696: 2684

01697, 01698: 2695

Length, m

89.0

Breadth, m

13.6

Draught, m

4.70

No of shafts

1

Machinery

2 6ChN40/46 diesels

Power, h. p.

7000

Max speed, kts

19.2

Fuel, t

diesel oil

Endurance, nm(kts)

7000(19)

Armament

2 x 1 - 12.7/79, 1 helicopter (Ka-32)

Electronic equipment

Nayada-5, Furuno 2030S, Furuno 810DS radars

Complement

42
Standard scale images

Komandor 2010
Graphics
Project history
Ordered 11.11.1987 by Ministry of Fisheries for patrolling in Northern Pacific area, but in 1998 transferred to Border Guard. Helicopter is stored in hangar beneath a flight deck, flight deck is 14m long and has folding sides to increase width. One of two GRP lifeboats and one of two RIBs are used for inspection duties.
Modernizations
2000s, all: - Ka-32 helicopter; + Ka-27PS helicopter

2010s, Komandor: + JMA-5332-12, JMA-5322-7 radars
Naval service
No significant events.
© 2007-2022 - navypedia.org