NAVYPEDIA Support the project with paypal
Photo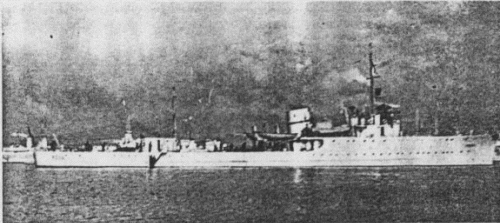 PSK-1 Kirov 1935  
Ships
| Name | No | Yard No | Builder | Laid down | Launched | Comm | Fate |
| --- | --- | --- | --- | --- | --- | --- | --- |
| ПСК-1 Дзержинский [PSK-1 Dzerzhinskiy] |   |   | Ansaldo, Sestri Ponente, Italy | 2.1933 | 19.8.1934 | 1935 | stricken 1959 |
| ПСК-2 Киров [PSK-2 Kirov] |   |   | Ansaldo, Sestri Ponente, Italy | 2.1933 | 18.9.1934 | 1935 | stricken 1959 |
Technical data
| | |
| --- | --- |
| Displacement standard, t | 951 |
| Displacement full, t | 1161 |
| Length, m | 78.1 wl 80.0 oa |
| Breadth, m | 8.30 |
| Draught, m | 3.75 |
| No of shafts | 3 |
| Machinery | 3 Tosi diesels |
| Power, h. p. | 4500 |
| Max speed, kts | 18.5 |
| Fuel, t | diesel oil 140 |
| Endurance, nm(kts) | 5975(16.5) |
| Armament | 3 x 1 - 102/60, 4 x 1 - 45/43 21K, 3 x 1 - 12.7/79, 2 DCT (10), 24 mines |
| Complement | 131 |
Standard scale images

Dzerzhinskiy 1936
Graphics
Project history
Built in Italy under Soviet order for service in the Far East. Design of Ansaldo. They had Italian numbers PS8 and PS26 under which passed to Vladivostok where 12.12.1934 were been accepted by Soviet Union and received armament. They were equipped by triple-shaft diesel machinery, on trials without armament shown 20.5-21kts, but in service conditions reached no more than 18.5kts. They differed by extremely low metacentric height (13cm in worst loading condition). The design provided replacement of 102mm gun No2 by 1 triple 450mm TT, however in practice it was not realised.
Modernizations
early 1950s, both: - 3 x 1 - 102/60; + 2 x 1 - 100/56 B-34-USM, radar
Naval service
Both were stricken in 1959, then Kirov was converted to barrack ship PKZ-89. Dzerzhinskiy in 1961 ran ashore during a storm on Island Shikotan (Kuriles).
© 2007-2022 - navypedia.org