Photo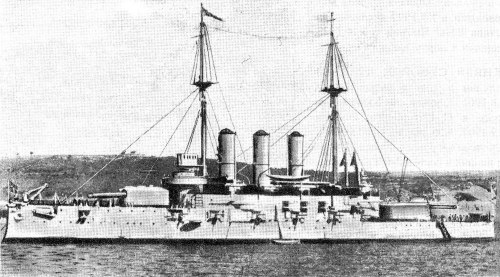 Ioann Zlatoust in the days of WWI
Ships
| Name | No | Yard No | Builder | Laid down | Launched | Comp | Fate |
| --- | --- | --- | --- | --- | --- | --- | --- |
| Евстафий [Yevstafiy] |   |   | Nikolayev Admiralty | 23.11.1904 | 3.11.1906 | 28.5.1911 | captured by Germany 1.5.1918 |
| Иоанн Златоуст [Ioann Zlatoust] |   |   | Lazarev Admiralty, Sevastopol | 13.11.1904 | 1.5.1906 | 1.4.1911 | captured by Germany 1.5.1918 |
Technical data
| | |
| --- | --- |
| Displacement normal, t | 12840 |
| Displacement full, t |   |
| Length, m | 118.0 |
| Breadth, m | 22.6 |
| Draught, m | 8.23 max |
| No of shafts | 2 |
| Machinery | 2 VTE, 22 Belleville boilers |
| Power, h. p. | 10800 |
| Max speed, kts | 16.5 |
| Fuel, t | coal 1530 |
| Endurance, nm(kts) | 2100(10) |
| Armour, mm | belt: 229 - 127, belt ends: 76, turrets: 254 - 102, battery: 127, casemates: 127, 75mm battery: 76, deck: 76 - 70, CT: 229 |
| Armament | 2 x 2 - 305/38, 4 x 1 - 203/43, 12 x 1 - 152/44 Canet, 14 x 1 - 75/48 Canet, 4 x 1 - 7.6/94, 2 - 450 TT (beam) |
| Complement | 879 |
Standard scale images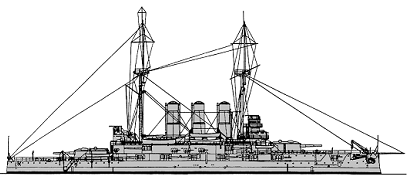 Yevstafiy 1914
Graphics
Project history
Black Sea Fleet. Similar to the Knyaz' Potyomkin Tavricheskiy but with some alterations made in the light of Russo-Japanese war experience. The 4 upper deck 152mm were replaced by 203mm.
Ship protection
The main belt ran for 72m and was 2.3m wide and 229-203mm thick with a 127mm lower edge. The 152mm upper belt was taken to the main deck for 48m, which was 4m less than the extent of the battery armour. The bulkheads were 178-127mm and the alloy steel armour deck 70mm on the flat with 76mm slopes outside the area of the battery, increased to 76mm at the ends. The battery roof was 38mm and the turret crowns 76mm. 76mm armour added at the ends of the main belt and to the 75mm guns between the 203mm guns.
Modernizations
1916, both: - 14 x 1 - 75/48; + 4 x 1 - 76/28 Lender obr. 1914/1915, 2 x 1 - 40/39 Vickers
Naval service
Both ships were laid up at Sevastopol in March 1918 and captured 1.5.1918 by German troops. 24.11.1918 they were captured by British-French troops and demolished by them 22-24.4.1919. 29.4.1919 they were captured by Reds and 24.6.1919 by Whites. They were liberated 15.11.1920 but never repaired and never commissioned again. Yevstafiy was sold for BU in 1922 and Ioann Zlatoust in 1923.