Photo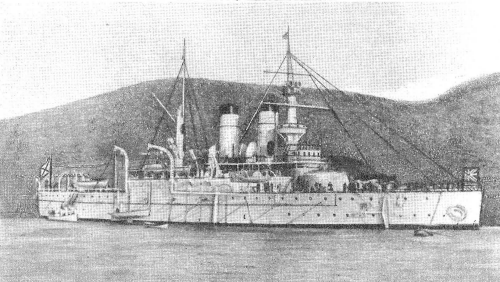 Sisoy Velikiy
Ships
| Name | No | Yard No | Builder | Laid down | Launched | Comp | Fate |
| --- | --- | --- | --- | --- | --- | --- | --- |
| Сисой Великий [Sisoy Velikiy] |   |   | New Admiralty, St. Petersburg | 6.8.1891 | 1.6.1894 | 30.8.1896 | sunk 28.5.1905 |
Technical data
| | |
| --- | --- |
| Displacement normal, t | 10400 |
| Displacement full, t |   |
| Length, m | 107.2 |
| Breadth, m | 20.7 |
| Draught, m | 7.77 |
| No of shafts | 2 |
| Machinery | 2 VTE, 12 Belleville boilers |
| Power, h. p. | 8500 |
| Max speed, kts | 15.7 |
| Fuel, t | coal 1000 |
| Endurance, nm(kts) | 4440(10) |
| Armour, mm | Nickel steel; belt: 406 - 102, turrets: 305, battery: 127, deck: 76 - 44, CT: 203 |
| Armament | 2 x 2 - 305/38, 6 x 1 - 152/44 Canet, 2 x 1 - 64/17 Baranovski, 12 x 1 - 47/40 Hotchkiss, 12 x 5 - 37/17 Hotchkiss, 6 - 381 TT (1 bow, 4 beam, 1 stern) |
| Complement | 582 |
Standard scale images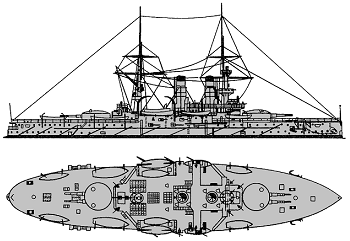 Sisoy Velikiy 1904
Graphics
Project history
A small battleship for her armament, with a moderately high freeboard, the 305mm axis height being 7.0m. The 305mm turrets were of the French centre-pivot type with the 152mm guns in a main deck battery.
Ship protection
The lower belt was 406-305mm with 102mm lower edge and 229mm bulkheads, and the upper belt 127mm. The armour deck was 44mm over the lower belt and 76mm at the ends, where there was no side armour.
Modernizations
1904: + 4 x 1 - 120/43 Canet, 2 x 1 - 37/20 Hotchkiss, 4 x 1 - 7.6/94
Naval service
There was a serious accident in the Sisoy Velikiy in 1897 when a 305mm gun was fired before the breech was properly closed. 27.5.1905 in the Tsushima battle Sisoy Velikiy was torpedoed by Japanese torpedo boat, was heavily damaged and foundered at morning 28.5.1905 in 3nm NE of Cape Karasaki.