NAVYPEDIA Support the project with paypal
Photo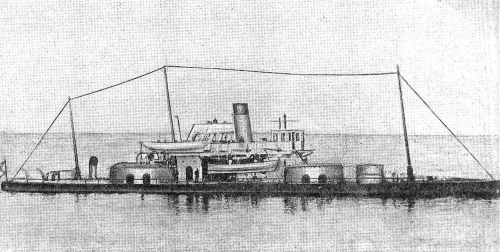 Charodeyka
Ships
| Name | No | Yard No | Builder | Laid down | Launched | Comp | Fate |
| --- | --- | --- | --- | --- | --- | --- | --- |
| Русалка [Rusalka] |   |   | Galerny Is, St. Petersburg | 26.1.1865 | 12.9.1867 | 1869 | foundered 19.9.1893 |
| Чародейка [Charodeyka] |   |   | Galerny Is, St. Petersburg | 26.1.1895 | 12.9.1867 | 1869 | stricken 4.1907 |
Technical data
| | |
| --- | --- |
| Displacement normal, t | 2100 |
| Displacement full, t |   |
| Length, m | 62.9 wl |
| Breadth, m | 12.8 |
| Draught, m | 3.84 max |
| No of shafts | 2 |
| Machinery | 2 HDA, 2 rectangular boilers |
| Power, h. p. | 875 |
| Max speed, kts | 8.5 |
| Fuel, t | coal 250 |
| Endurance, nm(kts) |   |
| Armour, mm | wrought iron; side: 114, turrets: 152, deck: 25 |
| Armament | 2 x 2 - 229/14 obr. 1867, 4 x 1 - 87/17 4pdr obr. 1867 |
| Complement | 178 |
Standard scale images

Rusalka 1892
Graphics
Project history
Low freeboard turret ships with the hull completely armoured above water. They were rigged with two pole masts. Development of the Smerch.
Ship protection
The hull above water was completely armoured and there was a 25mm deck.
Modernizations
1890s, both: - 2 x 2 - 229/14; + 2 x 2 - 229/19 obr. 1877, 5 x 5 - 37/17 Hotchkiss
Naval service
Rusalka was lost with all hands 19.9.1893 during a gale in Gulf of Finland en route from Revel to Helsingfors.
© 2007-2023 - navypedia.org