Photo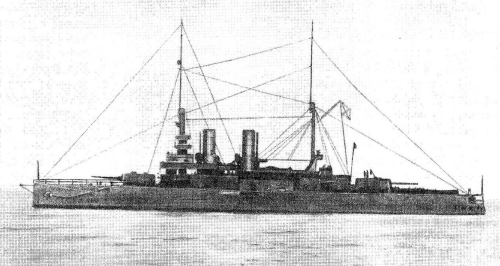 Rostislav
Ships
| Name | No | Yard No | Builder | Laid down | Launched | Comp | Fate |
| --- | --- | --- | --- | --- | --- | --- | --- |
| Ростислав [Rostislav] |   |   | Nikolayev Admiralty | 18.5.1895 | 1.9.1896 | 10/1898 | captured by Germany 1.5.1918 |
Technical data
| | |
| --- | --- |
| Displacement normal, t | 10140 |
| Displacement full, t |   |
| Length, m | 107.2 |
| Breadth, m | 20.7 |
| Draught, m | 6.71 max |
| No of shafts | 2 |
| Machinery | 2 VTE, 12 cylindrical boilers |
| Power, h. p. | 8700 |
| Max speed, kts | 15.6 |
| Fuel, t | coal 1000 |
| Endurance, nm(kts) | 3500(8) |
| Armour, mm | Harvey; belt: 356 - 127, turrets: 254 - 127, secondary turrets: 127, deck: 76 - 51, CT: 152 |
| Armament | 2 x 2 - 254/43, 4 x 2 - 152/44 Canet, 2 x 1 - 64/17 Baranovski, 12 x 1 - 47/40 Hotchkiss, 14 x 1 - 37/20 Hotchkiss, 6 - 381 TT (1 bow, 4 beam, 1 stern) |
| Complement | 632 |
Standard scale images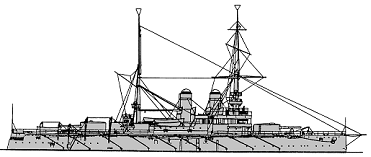 Rostislav 1914
Graphics
Project history
Black Sea Fleet. Originally intended as a sister ship to the Sisoy Velikiy, the Rostislav had her 254mm guns in French-type turrets, and the 152mm turrets were amidships on either beam. Although a slow and weak ship, the Rostislav took part in several of the early First World War Black Sea operations.
Ship protection
The main belt was 69m long and 2.1m wide, 356-254mm on the waterline with an 203-152mm lower edge. The bulkheads were compound not Harvey, and 229-127mm while the 127mm upper belt was 46m by 2.3m. The armour deck was 51mm over the main belt and 76mm at the ends, and the turret crowns 63mm.
Modernizations
1910: - 12 x 1 - 47/40, 14 x 1 - 37/20, 6 - 381 TT; + 4 x 1 - 75/48 Canet, 4 x 1 - 7.6/94, 2 - 450 TT (beam)
Naval service
Rostislav was laid up at Sevastopol in March 1918 and captured 1.5.1918 by German troops. 24.11.1918 she was captured by British-French troops and partly demolished by them 22-24.4.1919. 29.4.1919 she was captured by Reds, 24.6.1919 by Whites and commissioned them in November 1919 as depot hulk for minesweepers. In November 1920 she was scuttled as blockship off Enikkale for barraging of Kerch Straits.