Photo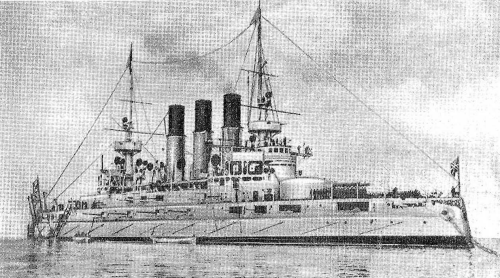 Retvizan 1902
Ships
| Name | No | Yard No | Builder | Laid down | Launched | Comp | Fate |
| --- | --- | --- | --- | --- | --- | --- | --- |
| Ретвизан [Retvizan] |   | 300 | Cramp, Philadelphia, USA | 29.7.1899 | 23.10.1900 | 12/1901 | sunk 6.12.1904 |
Technical data
| | |
| --- | --- |
| Displacement normal, t | 12900 |
| Displacement full, t |   |
| Length, m | 117.9 |
| Breadth, m | 22.0 |
| Draught, m | 7.92 max |
| No of shafts | 2 |
| Machinery | 2 VTE, 24 Niclausse boilers |
| Power, h. p. | 17000 |
| Max speed, kts | 18 |
| Fuel, t | coal 2000 |
| Endurance, nm(kts) | 5500(10) |
| Armour, mm | belt: 229 - 127, belt ends: 51, turrets: 229 - 203, battery: 127, casemates: 127, deck: 76 - 51, CT: 254 |
| Armament | 2 x 2 - 305/38, 12 x 1 - 152/44 Canet, 20 x 1 - 75/48 Canet, 2 x 1 - 63/17 Baranovski, 24 x 1 - 47/40 Hotchkiss, 8 x 1 - 37/20 Hotchkiss, 2 x 1 - 7.6/94, 6 - 450 TT (1 bow, 4 beam, 1 stern) |
| Complement | 738 |
Standard scale images

Retvizan 1902
Graphics
Project history
A three-funnelled, flush-deck ship, and the best Russian battleship so far described. The 305mm guns were in French-type turrets, 4 of the 152mm in upper deck casemates and 8 in a main deck battery.
Ship protection
The belt was complete, the lower strake from 1.2m below lwl to 1.1m above, being 229mm with a 127mm lower edge for 78m, and the upper strake to the main deck was 152mm between turrets, 178mm bulkheads closing these parts of the belt which tapered beyond to 51mm at bow and stern. The alloy steel armour deck was 51mm with 76mm slopes.
Modernizations
None.
Naval service
The Retvizan was torpedoed in the Japanese attack at Port Arthur on 9.2.1904 when she took on 2100t water, and was damaged in the Yellow Sea battle where she was apparently hit by 18 305mm to 203mm shells. During the siege of Port Arthur she was hit by 13 280mm howitzer shells and sank on 6.12.1904. Three shells, one of which burst in a boiler room, were very damaging. She was raised and repaired by the Japanese and served as Hizen.