Photo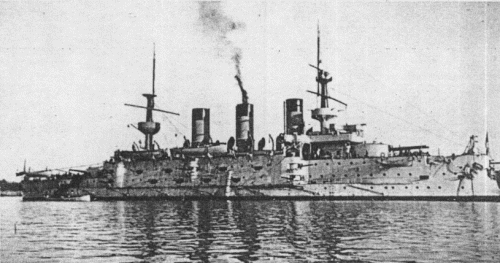 Peresvet 1903
Ships
| Name | No | Yard No | Builder | Laid down | Launched | Comp | Fate |
| --- | --- | --- | --- | --- | --- | --- | --- |
| Пересвет [Peresvet] |   |   | Baltic Works, St. Petersburg | 21.11.1895 | 19.5.1898 | 7/1901 | scuttled 7.12.1904, to Japan (相模 [Sagami]), returned 6.4.1916, sunk 4.1.1917 |
| Ослябя [Osliabia] |   |   | New Admiralty, St. Petersburg | 11/1896 | 10/1898 | 8/1901 | sunk 27.5.1905 |
| Победа [Pobeda] |   |   | Baltic Works, St. Petersburg | 21.2.1899 | 24.5.1900 | 10/1902 | sunk 7.12.1904, to Japan (周防 [Suwo]) |
Technical data
Displacement normal, t

12683

Displacement full, t

 

Length, m

132.4

Breadth, m

21.8

Draught, m

Peresvet, Osliabia: 7.92

Pobeda: 8.00

No of shafts

3

Machinery

Peresvet, Osliabia: 3 VTE, 32 Belleville boilers

Pobeda: 3 VTE, 30 Belleville boilers

Power, h. p.

15000

Max speed, kts

18 - 18.5

Fuel, t

coal 2100

Endurance, nm(kts)

6200(10)

Armour, mm

Peresvet, Osliabia: KC and Harvey; belt: 229 - 127, turrets: 229 - 127, casemates: 127, deck: 76 - 51, CT: 152

Pobeda: belt: 229 - 127, turrets: 254 - 127, casemates: 127, deck: 76 - 51, CT: 210

Armament

2 x 2 - 254/43, 11 x 1 - 152/44 Canet, 20 x 1 - 75/48 Canet, 2 x 1 - 64/17 Baranovski, 20 x 1 - 47/40 Hotchkiss, 8 x 1 - 37/20 Hotchkiss, 5 - 381 TT (1 bow, 4 beam)

Complement

752
Standard scale images

Peresvet 1901
Graphics
Project history
Three-funnelled ships with a high forecastle deck extending to the mainmast and considerable tumblehome. A thoroughly unsatisfactory design, both armament and protection being poor and speed not exceptional. The 254mm guns were in French-type turrets and of the 152mm 6 were in upper deck and 4 in main deck casemates, with 1 unprotected in the bows. Most of the 75mm were in unarmoured upper and main deck batteries.
Ship protection
The main belt was 95m long and 2.4m wide, 229-1278mm thick with 127mm lower edge, and the 127mm upper belt, reaching the main deck, was only 57m long. Both belts ended in 102mm bulkheads, and there were similar bulkheads between the end casemates. The armour deck was 63-51mm amidships and 76mm at the ends, and in Pobeda alloy steel was used.
Modernizations
1916, Peresvet after Japanese service was armed with 2 x 2 - 254/43, 10 x 1 - 152/40 41-shiki, 16 x 1 - 76/40 41-shiki, 4 x 1 - 6.5/115, 2 - 381 TT (beam)
Naval service
Osliabia was sunk 27.5.1905 by gunfire at Tsushima, mainly from the effect of shells near the wl forward. The other two were at Port Arthur in February 1904. Peresvet was seriously damaged by gunfire at the Yellow Sea battle, and in the siege of Port Arthur was scuttled on 7.12.1904 after a total of at least 23 280mm howitzer shells had hit her. She was raised and repaired by the Japanese and served as the Sagami. Sold back to Russia in 1916, she ran aground off Vladivostok 26.5.1916 and remained so until July. She was finally sunk 4.1.1917 by a mine laid by German submarine U73 about 10 miles from Port Said. Pobeda struck a mine 13.4.1904 which exploded under a main coal bunker, and was repaired by mid June. She was not so badly damaged at the Yellow Sea as Peresvet but sank at Port Arthur on 7.12.1904 from the effects of 21 280mm shells. Raised and repaired by the Japanese, she served as the Suwo until scrapped.