Photo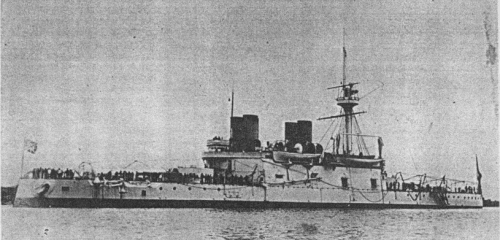 Navarin 1900
Ships
| Name | No | Yard No | Builder | Laid down | Launched | Comp | Fate |
| --- | --- | --- | --- | --- | --- | --- | --- |
| Наварин [Navarin] |   |   | Franko-Russkiy Plant, St. Petersburg | 31.5.1890 | 1.11.1891 | 6/1896 | sunk 28.5.1905 |
Technical data
| | |
| --- | --- |
| Displacement normal, t | 10206 |
| Displacement full, t |   |
| Length, m | 109.0 |
| Breadth, m | 20.4 |
| Draught, m | 8.38 max |
| No of shafts | 2 |
| Machinery | 2 VTE, 12 cylindrical boilers |
| Power, h. p. | 9140 |
| Max speed, kts | 15.5 |
| Fuel, t | coal 1200 |
| Endurance, nm(kts) | 3050(10) |
| Armour, mm | compound; belt: 406 - 203, turrets: 305 (nickel steel), battery: 127, deck: 76 - 51, CT: 254 (steel) |
| Armament | 2 x 2 - 305/32, 8 x 1 - 152/32 obr. 1877, 2 x 1 - 64/17 Baranovski, 8 x 1 - 47/40 Hotchkiss, 15 x 1 - 37/20 Hotchkiss, 6 - 381 TT (1 bow, 4 beam, 1 stern) |
| Complement | 622 |
Standard scale images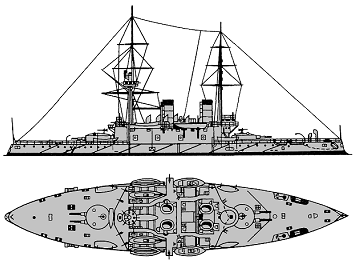 Navarin 1904
Graphics
Project history
A turret ship of 3m freeboard as completed. The turret bases were not individually armoured, and the 152mm guns were in an upper deck battery. The Navarin suffered from insufficient boiler power, but for her date was well protected. A most unusual feature was the location of the four funnels in two pairs abreast.
Ship protection
The belt was 67m long, the lower strake being 406-356mm with an 203mm lower edge and reaching from 1.5m below to 0.6m above lwl, while the upper strake was 46m long, 2.4m wide and a uniform 305mm. The bulkheads were 305mm and the armour deck 63-51mm over the belt and 76mm at the ends.
Modernizations
1904: - 3 x 1 - 37/20; + 4 x 1 - 120/43 Canet, 4 x 1 - 57/40 Hotchkiss, 10 x 1 - 47/40 Hotchkiss
Naval service
At night 27-28.5.1905 in the Tsushima Straits she was sunk by three torpedoes fired by Japanese torpedo boats.