Photo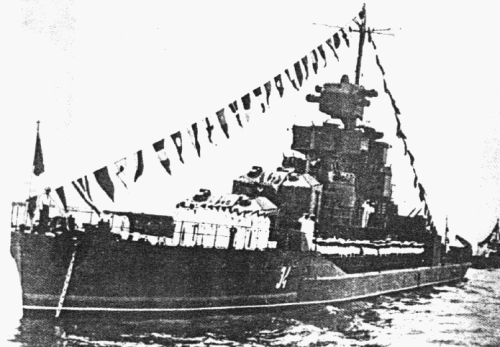 Ships
| Name | Yard No | Builder | Laid down | Launched | Comm | Fate |
| --- | --- | --- | --- | --- | --- | --- |
| Хасан [Khasan] (ex-Лазо [Lazo]) | 233/9671 | 112 Yd, Gorkiy // Kirov Wks, Khabarovsk | 15.7.1936 // 4.11.1939 | 30.8.1940 | 1.2.1942 | stricken 3.1960 |
| Перекоп [Perekop] (ex-Симбирцев [Simbirtsev]) | 234/9672 | 112 Yd, Gorkiy // Kirov Wks, Khabarovsk | 15.7.1936 // 19.12.1939 | 14.6.1941 | 24.12.1943 | stricken 3.1960 |
| Сиваш [Sivash] (ex-Серышев [Seryshev]) | 235/9673 | 112 Yd, Gorkiy // Kirov Wks, Khabarovsk | 15.7.1936 // 20.8.1940 | 1.10.1941 | 31.10.1946 | accommodation  ship 9.1960 |
Technical data
Displacement standard, t

1704

Displacement full, t

2400

Length, m

88.0

Breadth, m

11.1

Draught, m

2.94 full load

No of shafts

4

Machinery

4 38KR-8 diesels

Power, h. p.

3200

Max speed, kts

15

Fuel, t

diesel oil 167

Endurance, nm(kts)
5510(11)
Armour, mm

belt: 77 - 36, turrets: 100 - 50, CT: 100 - 50, deck: 40 - 25, bulkheads: 25

Armament

Khasan: 3 x 2 - 130/50 B-28, 2 x 2 - 76/52 39K, 2 x 2 - 45/43 41K, 5 x 2 - 12.7/79, 29 mines

Perekop: 3 x 2 - 130/50 B-2-LMT, 2 x 2 - 76/52 39K, 2 x 2 - 45/43 41K, 5 x 2 - 12.7/79, 29 mines

Sivash: 3 x 2 - 130/51 B-2-LMT, 2 x 2 - 76/55 39K, 2 x 2 - 45/46 41K, 5 x 2 - 12.7/79, 29 mines

Complement

242
Standard scale images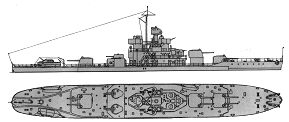 Khasan 1943
Graphics
Project history
The largest and strongest river combat ships in the world. Seaworthy monitors for operations in lower Amur and in the Tartar Strait. The design was developed since 1935 with usage of the project of the large monitor of 1915. Originally the armament should include 4 twin 130mm turrets, arranged superfiring, and also a seaplane, but because of the overload which have arisen in the course of building the aircraft was refused, the aft superfiring 130mm turret was replaced by 2 twin 76mm mounts. The flat-bottom hull had ice stiffenings and a forecastle, allowing to go out in the high sea. Three monitors were laid down at Gorky in 1936; by summer of 1939 sections were transported to Khabarovsk for completion. Completion became complicated a delay of availability of turrets, because of what Perekop was completed with 3 single 130mm guns.
Ship protection
Main belt had 77mm thickness amidships and 36mm at ship ends, citadel was closed by 25mm bulkheads. Deck was 40mm amidships and 25mm at ship ends. CT and turrets had 100-50mm protection, MG turrets had 10mm armour.
Modernizations
None.

1/1946, Khasan: 3 x 2 - 130/51 B-28, 2 x 2 - 76/55 39K, 2 x 2 - 45/46 41K, 5 x 2 - 12.7/79, 29 mines

1/1946, Perekop: 3 x 2 - 130/51 B-2-LMT, 2 x 2 - 76/55 39K, 2 x 2 - 45/46 41K, 5 x 2 - 12.7/79, 29 mines
Naval service
During war Khasan and Perekop were a part of North Pacific Flotilla.