NAVYPEDIA Support the project with paypal
Photo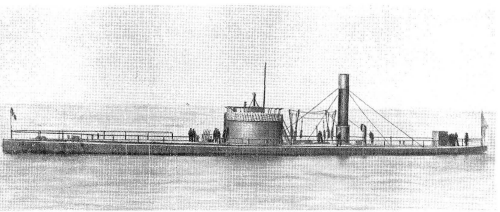 Veshchun
Ships
| Name | No | Yard No | Builder | Laid down | Launched | Comp | Fate |
| --- | --- | --- | --- | --- | --- | --- | --- |
| Броненосец [Bronenosets] |   |   | Carr & McFerson, St. Petersburg | 17.6.1863 | 24.3.1864 | 6.2.1865 | stricken 8.1900 |
| Ураган [Uragan] |   |   | New Admiralty, St. Petersburg | 8.7.1863 | 27.5.1864 | 25.5.1865 | stricken 8.1900 |
| Тифон [Tifon] |   |   | New Admiralty, St. Petersburg | 8.7.1863 | 26.6.1864 | 25.6.1865 | stricken 8.1900 |
| Вещун [Veshchun] |   |   | Cockerill, Hoboken, Belgium // Gutuyev Is, St. Petersburg | 9.11.1863 | 8.5.1864 | 3.7.1865 | stricken 8.1900 |
| Колдун [Koldun] |   |   | Cockerill, Hoboken, Belgium // Gutuyev Is, St. Petersburg | 9.11.1863 | 8.5.1864 | 3.7.1865 | stricken 8.1900 |
| Латник [Latnik] |   |   | Carr & McFerson, St. Petersburg | 17.6.1863 | 22.3.1864 | 21.7.1865 | stricken 8.1900 |
| Единорог [Yedinorog] |   |   | Galerny Is, St. Petersburg | 13.6.1863 | 2.6.1864 | 27.7.1865 | stricken 8.1900 |
| Стрелец [Strelets] |   |   | Galerny Is, St. Petersburg | 13.6.1863 | 2.6.1864 | 28.7.1865 | stricken 8.1900 |
| Лава [Lava] |   |   | Semyannikov & Poletika, St. Petersburg | 28.6.1863 | 8.6.1864 | 1.9.1865 | stricken 8.1900 |
| Перун [Perun] |   |   | Semyannikov & Poletika, St. Petersburg | 27.6.1863 | 10.7.1864 | 1.9.1865 | stricken 8.1900 |
Technical data
Displacement normal, t

1565

Displacement full, t
 
Length, m

61.3

Breadth, m

14.0

Draught, m

3.48 - 3.84 max

No of shafts

1

Machinery

1 HDA, 2 rectangular boilers

Power, h. p.

340 - 530

Max speed, kts

6.5 - 8

Fuel, t

coal 100

Endurance, nm(kts)
 
Armour, mm

wrought iron; side: 229 - 76, turret: 254, pilot house: 203

Perun: wrought iron; side: 229 - 76, turret: 254, deck: 25, pilot house: 203

Armament

1 x 2 - 229/14 Krupp SB

Yedinorog: 1 x 2 - 273/12 Krupp SB

Complement

111
Standard scale images

Bronenosets 1865

Perun 1867
Graphics
Project history
Low freeboard, single turret monitors of United States type. The two built at Seraing were sent to Russia in sections and assembled. The hull form seems to have been very similar to that of the US Passaic class and the above displacement is in this case much too low and should be about 2000t.
Ship protection
The side armour extended to 1.1m below water and was 127mm increased to 229mm forward and reduced to 76mm at the lower edge. The funnel base had 203mm, and there was a protecting ring 0.4m high and 127mm thick round the base of the turret. There was no double bottom and only Perun had a 25mm armour deck, the absence of which was a serious weakness in the others. All armour was built up from 25mm plates.
Modernizations
1878, all were armed with 1 x 2 - 229/19 obr. 1877

1890s, all: + 2 x 1 - 47/40 Hotchkiss, 2 x 5 - 37/17 Hotchkiss
Naval service
No significant events.
© 2007-2023 - navypedia.org