Photo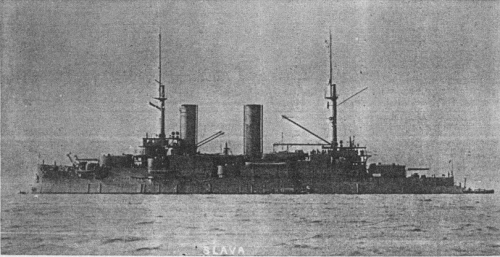 Slava 1909
Ships
| Name | No | Yard No | Builder | Laid down | Launched | Comp | Fate |
| --- | --- | --- | --- | --- | --- | --- | --- |
| Император Александр III [Imperator Alexandr III] |   |   | Baltic Works, St. Petersburg | 24.5.1900 | 3.8.1901 | 1903 | sunk 27.5.1905 |
| Бородино [Borodino] |   |   | New Admiralty, St. Petersburg | 24.5.1900 | 9.9.1901 | 8/1904 | sunk 27.5.1905 |
| Орёл [Oriol] |   |   | Galerny Is, St. Petersburg | 2.6.1900 | 19.7.1902 | 8/1904 | captured by Japan 28.5.1905 (石見 [Iwami]) |
| Князь Суворов [Knyaz' Suvorov] |   |   | Baltic Works, St. Petersburg | 8.9.1901 | 25.9.1902 | 1904 | sunk 27.5.1905 |
| Слава [Slava] |   |   | Baltic Works, St. Petersburg | 1.11.1902 | 29.8.1903 | 10/1905 | sunk 17.10.1917 |
Technical data
Displacement normal, t

15275

Slava: 14415

Displacement full, t

 

Length, m

121.0

Breadth, m

23.2

Draught, m

7.97 max

No of shafts

2

Machinery

2 VTE, 20 Belleville boilers

Power, h. p.

16300

Max speed, kts

17.5 - 17.8

Fuel, t

coal 1520

Endurance, nm(kts)

3200(10)

Armour, mm

belt: 194 - 152, belt ends: 146 - 102, turrets: 254 - 102, secondary turrets: 152, battery: 76, deck: 63 - 32, CT: 203

Armament

2 x 2 - 305/38, 6 x 2 - 152/44 Canet, 20 x 1 - 75/48 Canet, 2 x 1 - 63/17 Baranovski, 20 x 1 - 47/40 Hotchkiss, 2 x 1 - 37/20 Hotchkiss, 8 x 1 - 7.6/94, 4 - 381 TT (1 bow, 2 beam, 1 stern)

Slava: 2 x 2 - 305/38, 6 x 2 - 152/44 Canet, 20 x 1 - 75/48 Canet, 4 x 1 - 47/40 Hotchkiss, 8 x 1 - 7.6/94, 4 - 381 TT (1 bow, 2 beam, 1 stern)

Complement

835
Standard scale images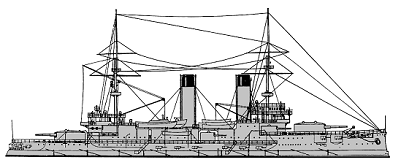 Borodino 1904
Graphics
Project history
This ill-fated class generally resembled the Tsesarevich, with the armouring altered, but not for the better.
Ship protection
The belt was thinned and was also a foot narrower, while the 76mm side armour between the main and upper decks, covering the 75mm battery, was of little value. The upper deck was 63-38mm over this battery, while the main deck was 51mm, the lower deck 38-25mm and the torpedo bulkhead 32mm. The latter was no longer formed by a continuation of the lower deck slope, but was joined to it by a narrow flat.
Modernizations
1914, Slava: - 8 x 1 - 75/48

1917, Slava: + 6 x 1 - 75/48 Canet (AA)
Naval service
The first four ships were present at Tsushima 27.5.1905 where the Borodino blew up from a magazine explosion caused by shell hits, the Imperator Alexandr III was sunk probably as a result of flooding from a very large shell hole near the wl forward 27.5.1905, and the Knyaz' Suvorov, badly battered by shells, sank from hits by one 450mm and two to four 350mm torpedoes 27.5.1905. The Oriol escaped large shell holes near the wl but, considerably damaged elsewhere, surrendered to the Japanese next day. She was partially reconstructed and served as the Iwami. In the First World War the Slava was frequently employed in the Gulf of Riga, and was badly damaged by the dreadnought König off Moon Sound on 17.10.1917 and, too deep in the water to escape, was blown up by own crew and additionally torpedoed by destroyer Turkmenets-Stavropolskiy.