Photo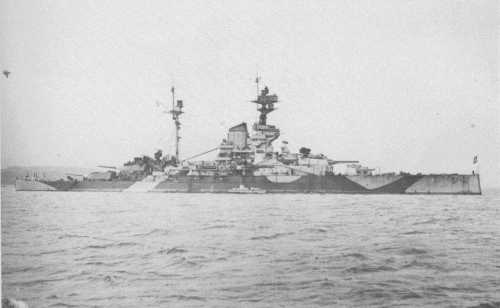 Arkhangelsk 1944
Ships
| Name | No | Yard No | Builder | Laid down | Launched | Comm | Fate |
| --- | --- | --- | --- | --- | --- | --- | --- |
| Архангельск [Arkhangelsk] (ex-Royal Sovereign) |   |   | Portsmouth DYd, UK | 15.1.1914 | 29.4.1915 | 5/1916 // 30.5.1944 | to UK 2.1949 (Royal Sovereign) |
Technical data
| | |
| --- | --- |
| Displacement standard, t | 29950 |
| Displacement full, t | 34836 |
| Length, m | 190.3 |
| Breadth, m | 31.0 |
| Draught, m | 8.70 |
| No of shafts | 4 |
| Machinery | 4 sets Parsons geared steam turbines, 18 Babcock & Wilcox boilers |
| Power, h. p. | 40000 |
| Max speed, kts | 22 |
| Fuel, t | 3400 oil |
| Endurance, nm(kts) | 5080(10) |
| Armour, mm | main belt: 330 - 102, upper belt: 152, bulkheads: 152 - 102, turrets: 330 (face) - 280 (sides) - 127 (roof), barbettes: 254 - 178 (over main deck) - 152 - 102 (under main deck), casemates: 152, main deck: 51 - 25 (127 over magazines), upper deck: 38 - 25, casemate roof: 25, longitudinal bulkhead: 38, CT: 280 |
| Armament | 4 x 2 - 381/42 BL Mk I, 8 x 1 - 152/45 BL Mk XII, 4 x 2 - 102/45 QF Mk XVI, 2 x 8 - 40/39 QF Mk VIII, 2 x 4 - 40/39 QF Mk VIII, 6 x 2 - 20/70 Oerlikon MK IV, 10 x 1 - 20/70 Oerlikon Mk IV |
| Electronic equipment | type 273, type 279, 2x type 282, type 284B, 2x type 285 radars |
| Complement | 1230 |
Standard scale images

Arkhangelsk 1944
Graphics
Project history
Former British battleship Royal Sovereign. In 1943 she was appointed to transfer to the USSR on account of reparations from Italy, 30.5.1944 was accepted by Soviet crew at Newcastle, renamed Arkhangelsk and 24.8.1944 entered Northern Fleet.
Ship protection
Plates of the main armored belt had equal thickness (330mm) on all height (as against plates on Queen Elisabeth, to narrowed to top and bottom edges). This belt, 3.89m in height, lasted between "A" & "Y" barbettes. Fwd and aft from it thickness of a belt consistently decreased up to 152mm, and then up to 102mm. In 10.4m from stem and approximately in 4m from stern the belt closed by 102mm bulkheads. Above the main belt between barbettes "A" & "Y" there was a 152mm upper belt, closed by the bulkheads of the same thickness.

The main change in deck booking became rise of the main armored deck on one level upwards because of what its slopes fell to the bottom edge of an armored belt on a waterline under a much more angle, than on Queen Elizabeth class. It had identical 51mm thickness on flat part and on slopes. There were no slopes over engine rooms, and the armored deck reached the top edge of the main belt. Fwd and aft from "A" & "Y" barbettes the main armored deck was carried out flat, its thickness decreased to 25mm. Aft from barbette "Y" and up to aft bulkhead under the main deck, there was a middle deck with 25mm thickness, This thickness consecutive raised up to 76 and 102mm from aft bulkhead to aft part over steering gear. Fwd from barbette "A" at a level of an intermediate deck there was a lower armored deck with 25mm thickness, adjoining to the bottom edge of a belt on a waterline. Its thickness raised up to 63mm between fore bulkhead and stem. There was a 38-25mm upper deck, adjoining to the top edge of the upper belt. At last, the battery of 152mm guns was closed by 25mm deck.

Underwater protection has consisted from 25-37mm longitudinal bulkhead, lasting between barbettes "A" & "Y" and covering machinery, magazines and torpedo rooms. There are also 2.1m deep bulges Underwater protection in general repeated accepted one on Queen Elizabeth, but because of smaller thickness was estimated as weaker.
Modernizations
none.

1/1946: 4 x 2 - 381/42 Mk I, 8 x 1 - 152/45 P Mk IX, 4 x 2 - 102/45 Mk XIX, 2 x 8 - 40/39 QF Mk VIA, 2 x 4 - 40/39 QF Mk VII, 6 x 2 - 20/70 Mk V, 10 x 1 - 20/70 Mk III, type 273, type 279, 2x type 282, type 284B, 2x type 285 radars
Naval service
4.2.1949 Arkhangelsk was returned to the UK and soon broken up.