Photo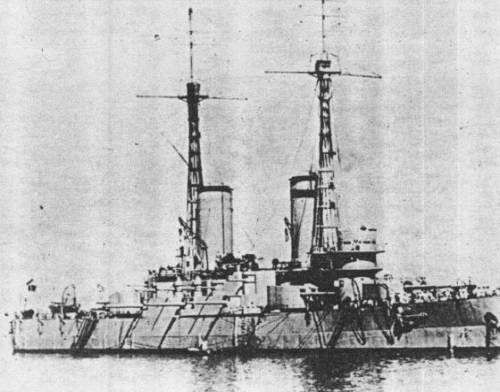 Andrey Pervozvanny 1912
Ships
| Name | No | Yard No | Builder | Laid down | Launched | Comp | Fate |
| --- | --- | --- | --- | --- | --- | --- | --- |
| Андрей Первозванный [Andrey Pervozvannyy] |   |   | New Admiralty, St. Petersburg | 11.5.1905 | 20.10.1906 | 13.5.1912 | stricken 12.1923 |
| Император Павел I [Imperator Pavel I], 4.1917- Республика [Respublika] |   |   | Baltic Works, St. Petersburg | 27.10.1904 | 7.9.1907 | 5.1912 | stricken 11.1923 |
Technical data
| | |
| --- | --- |
| Displacement normal, t | 17320 |
| Displacement full, t | 18580 |
| Length, m | 140.2 |
| Breadth, m | 24.4 |
| Draught, m | 8.53 full load |
| No of shafts | 2 |
| Machinery | 2 VTE, 25 Belleville boilers |
| Power, h. p. | 17600 |
| Max speed, kts | 18 |
| Fuel, t | coal 1500 |
| Endurance, nm(kts) | 2100(12) |
| Armour, mm | belt: 216 - 102, upper belt: 127 - 79, deck: 19 + 32 + 38, main turrets: 254 - 203, main barbettes: 254 - 102, secondary turrets: 178 - 127, secondary barbettes: 127, casemates: 127, CT: 203 |
| Armament | 2 x 2 - 305/38, 4 x 2 - 203/49, 6 x 1 - 203/49, 12 x 1 - 120/43 Canet, 6 x 1 - 7.6/94, 2 - 450 TT (sub, beam) |
| Complement | 957 |
Standard scale images

Andrey Pervozvannyy 1915
Graphics
Project history
Last and most perfect pre-dreadnought battleships of Russian fleet (Russian semi-dreadnoughts). They were originally ordered as 6th and 7th ships of Borodino class, but already during a building, the project was redesigned considering experience of the Russian-Japanese war. So, calibre of medium artillery was increased to 203mm, instead of 75mm 120mm guns were installed and underwater protection was strengthened. Freeboard of the ships had no any portlight, and all skylights of accommodation spaces placed on an upper deck.
Ship protection
Complete main belt had 216mm thickness between main barbettes (tapering to 127mm at lower edge), this one decreased to 114- and 102mm at aft and 127mm at fore ends (tapering to 88mm at lower edge). Complete upper belt was 127mm between main gun barbettes (tapering to 76mm at upper edge) and 79mm outside citadel. 120mm guns had 127mm protection. Main gun turrets had 254mm faces, 203mm sides and rears and 64mm roofs, secondary ones had 152mm faces, 127mm sides, 178mm rears and 51mm roofs. Both CTs had 203mm sides and 102mm roofs. Main 40mm deck connected with lower edge of main belt by 38mm slopes, flat 32mm upper deck connected with upper edge of upper belt. 19mm shelter deck protected battery.
Modernizations
1914, both: masts were replaced by pole ones.
Naval service
Andrey Pervozvannyy was badly damaged by torpedo from British CMB 18.8.1919 and never completely repaired, she was laid up in September 1920. Respublika was laid up in September 1918.