NAVYPEDIA Support the project with paypal
Photo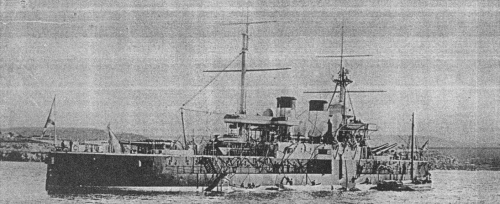 Dvenadtsat' Apostolov 1905
Ships
| Name | No | Yard No | Builder | Laid down | Launched | Comp | Fate |
| --- | --- | --- | --- | --- | --- | --- | --- |
| Двенадцать Апостолов [Dvenadtsat' Apostolov] |   |   | Nikolayev Admiralty | 7.3.1888 | 13.9.1890 | 10.5.1892 | hulk 9.1914 |
Technical data
| | |
| --- | --- |
| Displacement normal, t | 8709 |
| Displacement full, t |   |
| Length, m | 104.2 |
| Breadth, m | 18.3 |
| Draught, m | 8.38 max |
| No of shafts | 2 |
| Machinery | 2 VTE, 8 cylindrical boilers |
| Power, h. p. | 8750 |
| Max speed, kts | 15.7 |
| Fuel, t | coal 800 |
| Endurance, nm(kts) | 1540(10) |
| Armour, mm | compound; belt: 356 - 152, barbettes: 305 - 254, battery: 127 (steel), deck: 63 - 51, CT: 203 (steel) |
| Armament | 2 x 2 - 305/27 obr. 1877, 4 x 1 - 152/32 obr. 1877, 12 x 1 - 47/40 Hotchkiss, 10 x 1 - 37/20 Hotchkiss, 4 x 5 - 37/17 Hotchkiss, 6 - 381 TT (1 bow, 4 beam, 1 stern) |
| Complement | 599 |
Standard scale images

Dvenadtsat' Apostolov 1894
Graphics
Project history
Black Sea Fleet. She was a considerably better fighting ship than the Imperator Alexandr II.
Ship protection
The 305mm guns were in barbettes with 76mm cupola shields, and the 152mm in a main deck battery. The lower strake of the bell was 67m long, and the upper strake 65m. It was 356-305mm with 178-152mm lower edge, and ended in 305-229mm bulkheads. The armour deck was 51mm over the belt and 63mm at the ends
Modernizations
None.
Naval service
Dvenadtsat' Apostolov was disarmed 3.4.1911 and laid up to reserve. 4.9.1914 she was converted to torpedo depot hulk and sold to BU only in January 1931.
© 2007-2023 - navypedia.org