NAVYPEDIA Support the project with paypal
Photo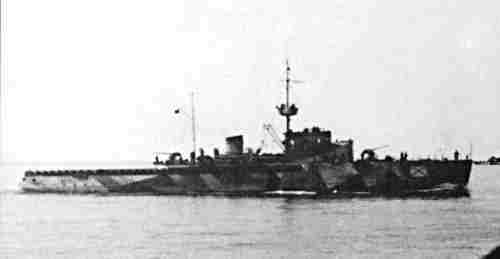 Amiral Murgescu
Ships
| Name | No | Yard No | Builder | Laid down | Launched | Comp | Fate |
| --- | --- | --- | --- | --- | --- | --- | --- |
| Amiral Murgescu |   |   | Santieri Galati, Galatz | 8.1938 | 14.6.1939 | 5.1941 | captured by USSR 5.9.1944 (Дон [Don]) |
| Cetetea Alba |   |   | Santieri Galati, Galatz | 1939 | --- | --- | cancelled |
Technical data
| | |
| --- | --- |
| Displacement standard, t |   |
| Displacement full, t | 812 |
| Length, m | 76.9 |
| Breadth, m | 9.10 |
| Draught, m | 2.50 |
| No of shafts | 2 |
| Machinery | 2 Krupp diesels |
| Power, h. p. | 2200 |
| Max speed, kts | 16 |
| Fuel, t | diesel oil |
| Endurance, nm(kts) | 3400(13) |
| Armament | 2 x 1 - 102/45 Bofors, 2 x 1 - 37/80 SK C/30, 2 x 1 - 20/70 Oerlikon, 2 x 1 - 13.2/76, 120 - 135 mines, 2 DCT |
| Complement | 78 |
Standard scale images

Amiral Murgescu 1944
Graphics
Project history
Unique Romanian purpose-built minelayer and largest combat ship for that moment built in Romania. She was projected by German-Dutch company IvS, on the basis of construction of Dutch minelayer Jan van Brakel. Ship was built under the 1937 program. Sister-ship Cetetea Alba was laid down in 1939, but never completed, building of two more ships was cancelled. Successful multi-purpose ship combining moderate dimensions and strong armament, though not having closed mine deck; can carry 120-135 mines depending on type, mines were laid through three mine slipways aft.
Modernizations
1943-1944: + 2 x 1 - 20/65 C/38.
Naval service
21.8.1944 Amiral Murgescu was damaged by Soviet aircraft at Constanza, 5.9.1944 captured in the same place by Soviet troops and 14.9.1944 commissioned by Soviet Navy as Don.


© 2007-2022 - navypedia.org