Photo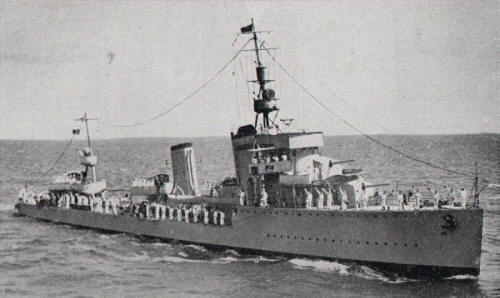 Regele Ferdinand 1935  
Ships
| Name | No | Yard No | Builder | Laid down | Launched | Comp | Fate |
| --- | --- | --- | --- | --- | --- | --- | --- |
| Regele Ferdinand | RF, 1952- D21, 1956- D1, 1959- D9 |   | Pattison, Naples, Italy | 6.1927 | 2.12.1928 | 9.1930 | captured by USSR 5.9.1944 (Лихой [Likhoy]), returned 7.1951, stricken 4.1961 |
| Regina Maria | RM, 1952- D22, 1956- D2, 1959- D10 |   | Pattison, Naples, Italy | 6.1927 | 2.3.1929 | 9.1930 | captured by USSR 5.9.1944 (Летучий [Letuchiy]), returned 7.1951, stricken 4.1961 |
Technical data
| | |
| --- | --- |
| Displacement standard, t | 1400 |
| Displacement full, t | 1850 |
| Length, m | 102.0 |
| Breadth, m | 9.60 |
| Draught, m | 3.51 |
| No of shafts | 2 |
| Machinery | 2 sets Parsons geared steam turbines, 4 Thornycroft boilers |
| Power, h. p. | 52000 |
| Max speed, kts | 37 |
| Fuel, t | oil 480 |
| Endurance, nm(kts) | 3000(15) |
| Armament | 5 x 1 - 120/50 Bofors Mk 4, 1 x 1 - 76/40 Ansaldo M1917, 2 x 3 - 533 TT, 2 DCR (40), 50 mines |
| Complement | 212 |
Standard scale images

Regele Ferdinand 1939
Graphics
Project history
In the mid-1920s Romania found means for building of two new destroyers. Order was placed in Italy on Pattison, built previous Mărăști class. This builder had communications with British shipbuilders, and frequently its projects were based on British experience. As prototype one of the best of contemporary ships, British leader Shakespeare, was chosen. Drawings were developed with the help of Thornycroft. Though on main guns new ships corresponded to a prototype and Mărăști class, guns were more strong 120mm/50 Bofors with 45° maximum elevation angle. Italian 533mm torpedoes were used in Romanian Navy for the first time. Significant difference from British prototype became machinery arrangement en echelon with Parsons geared turbines, made under licence by STT. On trials both ships reached 38kts. 7.9.1930 Regele Ferdinand and Regina Maria arrived to Constanza and were commissioned officially.
Modernizations
1930s, both: + 2 x 1 - 40/67 Škoda

1939, both: + 2 x 2 - 13.2/76, 2 DCT

1943, both: - 1 x 1 - 76/40; + 4 x 1 - 20/65 C/38, S-Gerät sonar

early 1944, both: - 1 x 1 - 120/50; + 1 x 1 - 88/42 SK C/30
Naval service
Regele Ferdinand was damaged by Soviet aircraft at Sevastopol 11.5.1944, repeatedly received seriously damages 20.8.1944 during raid of Soviet aircraft to Constanza. 5.9.1944 Regele Ferdinand and Regina Maria were captured Soviet troops at Constanza and 14.9.1944 commissioned by Soviet Navy as Likhoy and Letuchiy. 3.7.1951 both were returned to Romania.