Photo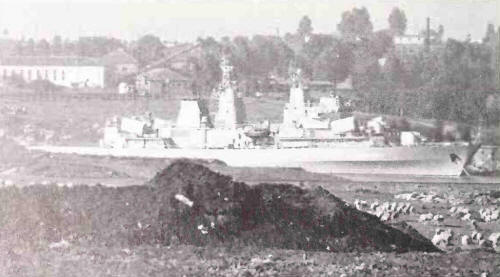 Muntenia 1986
Ships
| Name | No | Yard No | Builder | Laid down | Launched | Comp | Fate |
| --- | --- | --- | --- | --- | --- | --- | --- |
| Muntenia, 5.1990- Timişoara, 8.1990- Mărăşeşti | 111, 3.2004- F111 |   | Santierul Naval 2 Mai, Mangalia | 2.5.1979 | 4.6.1981 | 5.8.1985 | in service (2019) |
Technical data
| | |
| --- | --- |
| Displacement standard, t | 4754 |
| Displacement full, t | 5795 |
| Length, m | 136.0 pp 144.6 oa |
| Breadth, m | 14.8 |
| Draught, m | 5.00 hull 7.00 sonar |
| No of shafts | 2 |
| Machinery | 4 61D diesels |
| Power, h. p. | 32000 |
| Max speed, kts | 27 |
| Fuel, t | diesel oil |
| Endurance, nm(kts) | 2800(14) |
| Armament | 4 x 2 P-15U SSM (8 P-15U), 2 x 2 - 76/59 AK-726, 4 x 2 - 30/71 AK-230, 2 x 3 - 533 TT (6 53-65), 2 x 5 RBU-1200 ASWRL, 1 - 2 helicopters (2 IAR-316 Alouette III or 1 IAR-330 Puma) |
| Electronic equipment | Don-2, MR-302 Rubka, 3Ts-25E Garpun-E, Nayada, Fut-B, 2x MR-104 Rys' radars, Argun' sonar, 2x Bizan'-4, MRP-11-14, MRP-15-16 ECM suites, 4x PK-16 decoy RL |
| Complement | 223 |
Standard scale images

Mărăşeşti 2010

Muntenia 1985    
Graphics
Project history
Designed in Romania and based on available Soviet machinery, weapons and sensors; the latter, however, are inadequate for a vessel of this size, which carries armament and radar fits equivalent to those of two missile corvettes. At first ship was classified as 'battle cruiser', in 1992 reclassified as destroyer, and in 2001 as frigate. Ship has two ASW helicopters and ASW rocket launchers (torpedoes are anti-ship only) but no adequate sonar. After commission so insufficient stability was appeared, that ship was recognized as unable to operate. During the reconstruction lasted in 1988-1992, SSM launchers were repositioned one deck lower, tower masts were replaced by lighter and lower lattice masts.
Modernizations 8.
1992: - 2 x 5 RBU-1200 ASWRL; + 2 x 4 Strela-2M SAM (8 9K32M), 2 x 12 RBU-6000 ASWRL

2008: - Don-2 radar, + Decca nav. radar, C-Flex CCS
Naval service
In 1993 Mărăşeşti was offered for sale but remained in commission.