Photo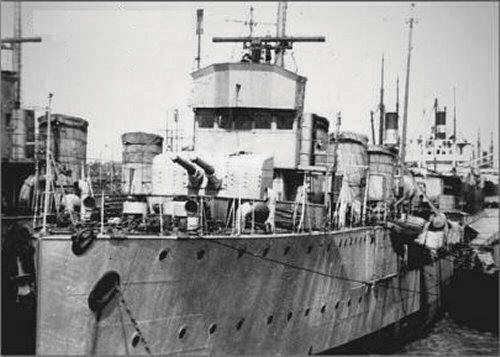 Mărăști
Ships
| Name | No | Yard No | Builder | Laid down | Launched | Comp | Fate |
| --- | --- | --- | --- | --- | --- | --- | --- |
| Mărăști (ex-Sparviero, ex-Vijelie) | 1948- D1, 1952- D11, 1956- D3 |   | Pattison, Naples, Italy | 1/1914 | 26.3.1917 | 7/1917 // 7.1920 | requisitioned by Italy 5.6.1915 (Sparviero), re-purchased 7.1920, captured by USSR 5.9.1944 (Ловкий [Lovkiy]), returned 10.1945, stricken 1961 |
| Mărășești (ex-Nibbio, ex-Vartez) | 1948- D2, 1952- D12, 1956- D4 |   | Pattison, Naples, Italy | 7/1914 | 30.1.1918 | 5/1918 // 7.1920 | requisitioned by Italy 5.6.1915 (Nibbio), re-purchased 7.1920, captured by USSR 5.9.1944 (Лёгкий [Lyogkiy]), returned 10.1945, stricken 1961 |
| Vifor |   |   | Pattison, Naples, Italy | 3/1914 | 26.7.1917 | 2/1918 // --- | requisitioned by Italy 5.6.1915 (Aquila) |
| Viscul |   |   | Pattison, Naples, Italy | 8/1916 | 16.8.1919 | 1/1920 // --- | requisitioned by Italy 5.6.1915 (Falco) |
Technical data
| | |
| --- | --- |
| Displacement standard, t | 1410 |
| Displacement full, t | 1723 |
| Length, m | 94.3 wl 94.7 oa |
| Breadth, m | 9.47 |
| Draught, m | 3.50 - 3.60 |
| No of shafts | 2 |
| Machinery | 2 Tosi steam turbines, 5 Thornycroft boilers |
| Power, h. p. | 45000 |
| Max speed, kts | 34 |
| Fuel, t | oil 260 |
| Endurance, nm(kts) | 1700(15) |
| Armament | 2 x 2 - 120/45 Schneider-Canet-Armstrong 1918-19, 1 x 1 - 120/45 Schneider-Canet-Armstrong 1918, 2 x 1 - 76/40 Ansaldo 1917, 2 x 1 - 6.5/80, 2 x 2 - 450 TT, 50 mines |
| Complement | 139 |
Standard scale images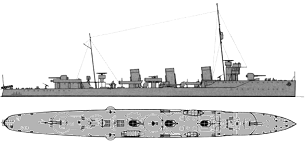 Mărăști 1943

Mărăști 1943
Graphics
Project history
In 1913 Romania ordered in Italy 4 destroyers. For that moment they were one of the largest and strongest ships of this type. Designed armament consisted of 5 120mm/45 guns in 2 twin and 1 single mounts, 4 76mm/40 guns and two twin 450mm TTs. Unsuccessful there was an arrangement of torpedo banks: they were installed aside abreast medium funnel though on deck there was enough area for their placing at centreline. 5.6.1915 destroyers laid on slipways were requisitioned by Italy which entered the First World War and renamed Aquila, Falco, Nibbio, Sparviero respectively. As they were significantly more larger than contemporary Italian destroyers, they were rated as esploratori (scouts). Lack of modern fast light cruisers has forced Italians to replace 120mm guns on three first ships by 3 single 152mm/40 Armstrong 1899 guns. On trials all exceeded contract speed: Aquila reached 36.4kts, Falco 35.2kts, Nibbio 37.4kts, Sparviero 38.04kts, thus machinery power at Nibbio reached 48020hp. Subsequently even has been stated, that she exceeded 40kts. Combat experience has shown, that 152mm guns appeared unsuccessful because of excessive weight and small firing rate, therefore in 1919 ships received designed armament. In 1920 Sparviero and Nibbio were redeemed by Romania and named Mărăști and Mărășești; 1.7.1920 they arrived to Constanza. Other two ships were never returned to Romania: in 1937 they were sold to Navy of Spanish Nationalists and named Melilla and Ceuta.
Modernizations
1939, both: - 1 x 1 - 120/45, 2 x 1 - 76/40, 2 x 1 - 6.5/80; + 2 x 1 - 37/80 SK C/30, 2 x 2 - 13.2/76, 1 DCT, 2 DCR (40)

1943-1944, both: + 1 x 2 - 37/80 SK C/30, 4 x 1 - 20/65 C/38
Naval service
In winter 1941/42 on Mărăști there was a turbine accident because of what till end of service her maximum speed did not exceed 22kts. 5.9.1944 both ships were captured by Soviet troops at Constanza and 14.9.1944 were commissioned by Soviet Navy as Lyogkiy (Mărășești) and Lovkiy (Mărăști). 12.10.1945 they were returned to Romania.