Photo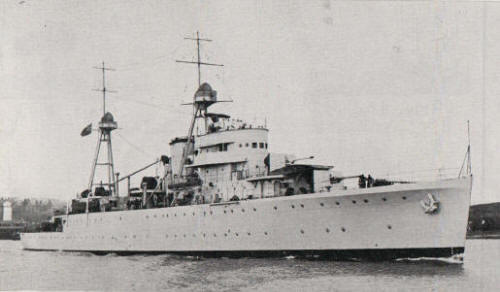 Afonso de Albuquerque 1935
Ships
| Name | No | Yard No | Builder | Laid down | Launched | Comp | Fate |
| --- | --- | --- | --- | --- | --- | --- | --- |
| Afonso de Albuquerque | 1956- F470 |   | Hawthorn Leslie, Tyne, UK | 5.1933 | 28.5.1934 | 3.1935 | sunk 13.12.1961 |
| Bartolomeu Dias | 1956- F471 |   | Hawthorn Leslie, Tyne, UK | 1933 | 10.10.1934 | 5.1935 | depot ship 2.1967 |
Technical data
| | |
| --- | --- |
| Displacement standard, t | 1788 |
| Displacement full, t | 2480 |
| Length, m | 99.6 pp 103.2 oa |
| Breadth, m | 13.5 |
| Draught, m | 3.83 |
| No of shafts | 2 |
| Machinery | 2 sets Parsons geared steam turbines, 2 Yarrow boilers |
| Power, h. p. | 8000 |
| Max speed, kts | 21 |
| Fuel, t | oil 580 |
| Endurance, nm(kts) | 8000(10) |
| Armament | 4 x 1 - 120/50 Vickers-Armstrong Mk G, 2 x 1 - 76/50 Mk 2.3.5, 4 x 1 - 40/39 2pdr QF Mk II, 2 DCR, 40 mines, 1 seaplane (Fairey III) |
| Complement | 184 |
Standard scale images

Afonso de Albuquerque 1935

Bartolomeu Dias 1965
Graphics
Project history
Colonial high-endurance sloops. The order was originally given out in 1931 to OTO (offered 2100t ships), but in connection with traditionally strong British effect and on financial motives in the same year the order was transferred to Hawthorn Leslie. The design was developed under effect of French Bougainville aviso. Officially Afonso de Albuquerque and Bartolomeu Dias were rated as 1st class avisos. Machinery included two 3-drum Yarrow boilers and Parsons geared turbines. Originally ships could carry a seaplane, but aviation equipment was removed soon after commission.
Modernizations
1935, both: - seaplane

1944, both: - 4 x 1 - 40/39; + 8 x 1 - 20/70 Oerlikon Mk II/IV, 4 DCT, presumably sonar

1950s, both: + radar
Naval service
Afonso de Albuquerque 18.12.1961 was hard damaged by gunfire of Indian frigate Betwa off Goa and ran aground. Bartolomeu Dias in February, 1967 was converted to depot ship and renamed São Cristovão.