Photo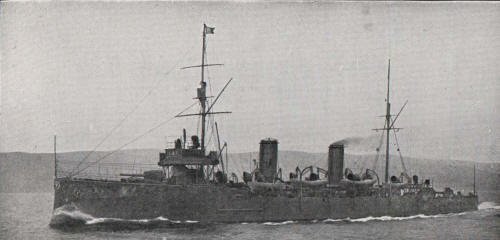 Coronel Bolognesi 1930s
Ships
| Name | No | Yard No | Builder | Laid down | Launched | Comp | Fate |
| --- | --- | --- | --- | --- | --- | --- | --- |
| Almirante Grau |   |   | Vickers, Barrow, UK | 1905 | 27.3.1906 | 1.3.1907 | stricken 6.1958 |
| Coronel Bolognesi |   |   | Vickers, Barrow, UK | 1905 | 24.9.1906 | 19.11.1907 | stricken 6.1958 |
Technical data
| | |
| --- | --- |
| Displacement normal, t | 3100 |
| Displacement full, t | 4877 |
| Length, m | 112.8 pp 115.8 oa |
| Breadth, m | 12.3 |
| Draught, m | 4.30 |
| No of shafts | 2 |
| Machinery | 2 4-cyl VTE, 10 Yarrow boilers |
| Power, h. p. | 14000 |
| Max speed, kts | 24 |
| Fuel, t | coal 500 |
| Endurance, nm(kts) | 3276(10) |
| Armour, mm | belt: 38, deck: 38, shields: 76, CT: 76 |
| Armament | 2 x 1 - 152/50 Vickers J, 8 x 1 - 76/40 Vickers, 6 x 1 - 57/40 Hotchkiss, 2 x 1 - 37/20 Hotchkiss, 2 - 450 TT |
| Complement | 320 |
Standard scale images

Almirante Grau 1910

Almirante Grau 1944
Graphics
Project history
On centuries border the Government of Peru has made a decision about strengthening of the navy representing concourse of small gunboats and armed merchant vessels. The order for two small cruisers was received by Vickers; building contract for Almirante Grau has been concluded 19.6.1905, Coronel Bolognesi 29.11.1905. On construction Peruvian ships were close to British scouts of Sentinel class built by the same builder, differing by forecastle form (flush deck instead of turtleback), number of funnels (two instead of three) and stronger armament. Almirante Grau was built as a flag ship, therefore she had additional accommodation spaces in high poop and differed from sister-ship by increased approximately on 20t displacement. On trials both ships exceeded 24kts contract speed (Almirante Grau reached 24.64kts).
Ship protection
Armour protection consisted of 38mm belt amidshipst and armoured deck of the same thickness covering machinery. CT and shields of 152mm guns were protected by 76mm armour.
Modernizations
1923-1925, both: boilers were converted to oil fuel (500t oil, 14000hp, 24kts, 3700(10)nm); - 2 x 1 - 76/40

1933-1935, both: boilers were replaced by new 8 Yarrow boilers (14000hp, 23.5kts, 3700(10)nm)

1936, both: main mast was removed; - 2 x 1 - 76/40, 6 x 1 - 57/40, 2 x 1 - 37/20; + 2 x 1 - 76/40 11-shiki, 2 x 2 - 13.2/76

1942-1944, both: fore pole mast was replaced by tripod, superstructures rebuilt; - 2 x 2 - 13.2/76, 2 - 450 TT; + 7 x 1 - 12.7/90, 1 DCT, 2 DCR
Naval service
In 1950th both cruisers were used as submarine depot ships.