NAVYPEDIA Support the project with paypal
Photo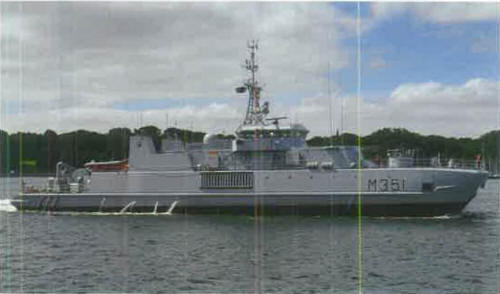 Otra 2014  
Ships
| Name | No | Yard No | Builder | Laid down | Launched | Comp | Fate |
| --- | --- | --- | --- | --- | --- | --- | --- |
| Oksøy | M340 |   | Kværner, Mandal |   | 1994 | 15.8.1994 | wrecked 2.2005, CTL, stricken 4.2009 |
| Karmøy | M341 |   | Kværner, Mandal |   | 1994 | 9.1.1995 | in service (2019) |
| Måløy | M342 |   | Kværner, Mandal |   | 1995 | 24.3.1995 | in service (2019) |
| Hinnoy | M343 |   | Kværner, Mandal |   | 1995 | 8.9.1995 | in service (2019) |
| Alta | M350 |   | Kværner, Mandal |   | 1995 | 12.1.1996 | in service (2019) |
| Otra | M351 |   | Kværner, Mandal |   | 1995 | 8.11.1996 | in service (2019) |
| Rauma | M352 |   | Kværner, Mandal |   | 1996 | 2.12.1996 | in service (2019) |
| Orkla | M353 |   | Kværner, Mandal |   | 1996 | 4.4.1997 | fire 19.11.2002 |
| Glomma | M354 |   | Kværner, Mandal |   | 1997 | 1.7.1997 | stricken 4.2009 |
Technical data
Displacement standard, t

343

Displacement full, t

375

Length, m

52.0 pp 55.2 oa

Breadth, m

13.3

Draught, m

2.35 floating 0.87 on cushion

No of shafts

2 waterjets + 2 lift fans

Machinery

2 MTU 12V396 TE84 diesels + 2 MTU 8V396 TE54 diesels

Power, h. p.

3800 + 1880

Max speed, kts

30

Fuel, t

diesel oil 65

Endurance, nm(kts)

1200(20)

Armament

M340-343: 1 x 2 Simbad SAM (~8 Mistral), 1 x 1 - 20/90 Mk 20 Rh202, 2 x 1 - 12.7/90, 2x Pluto Plus USV, decompression chamber

M350-354: 1 x 2 Simbad SAM (~8 Mistral), 3 x 1 - 12.7/90, Oropesa mechanical, AGATE acoustic, ELMA magnetic minesweeping gear

Electronic equipment

M340-343: 2x Decca RN88 radars, TSM-2023N sonar

M350-354: 2x Decca RN88 radars, SA950 sonar

Complement

M340-343: 38

M350-354: 32
Graphics
Project history
Surface-effect minehunters and minesweepers. Rigid-sidewall air-cushion design. All machinery mounted on main deck level to reduce acoustic and magnetic signatures.
Modernizations
2008-2011, Karmøy, Måløy, Hinnøy: - 2x Pluto Plus USV, TSM-2023N sonar; + 2x HUGIN1000 USV, TSM-2022 Mk 3 sonar

2008-2011, Alta, Otra, Rauma: - SA950 sonar; + TSM-2022 Mk 3 sonar
Naval service
Orkla suffered a catastrophic fire and subsequently sank at sea 19.11.2002. Oksøy ran aground on coastal rock in February 2005 but never was repaired and stricken in 2009.
© 2007-2022 - navypedia.org