Photo

Thor Heyerdahl 2012
Ships
| Name | No | Yard No | Builder | Laid down | Launched | Comp | Fate |
| --- | --- | --- | --- | --- | --- | --- | --- |
| Fridtjof Nansen | F310 |   | Navantia, El Ferrol, Spain | 9.4.2003 | 2.6.2004 | 5.4.2006 | in service (2019) |
| Roald Amundsen | F311 |   | Navantia, El Ferrol, Spain | 2.6.2004 | 25.5.2005 | 21.5.2007 | in service (2019) |
| Otto Sverdrup | F312 |   | Navantia, El Ferrol, Spain | 28.5.2005 | 28.4.2006 | 30.4.2008 | in service (2019) |
| Helge Instad | F313 |   | Navantia, El Ferrol, Spain | 28.4.2006 | 23.11.2007 | 29.9.2009 | collision 8.11.2018 |
| Thor Heyerdahl | F314 |   | Navantia, El Ferrol, Spain | 27.9.2007 | 11.2.2009 | 17.1.2011 | in service (2019) |
Technical data
| | |
| --- | --- |
| Displacement standard, t | 4600 |
| Displacement full, t | 5290 |
| Length, m | 127.1 pp 133.3 oa |
| Breadth, m | 15.9 wl 16.8 oa |
| Draught, m | 5.15 |
| No of shafts | 2 |
| Machinery | CODAG: 1 General Electric LM-2500 gas turbine + 2 Izar-Bravo 12V diesels |
| Power, h. p. | 26110+12240=38350 |
| Max speed, kts | 26 |
| Fuel, t | diesel / gas turbine oil |
| Endurance, nm(kts) | 4500(16) |
| Armament | 1 x 8 ESSM SAM (VLS, 32 RIM-162A), 1 x 1 - 76/62 OTO-Melara Compact SR, 5 x 1 - 12.7/90, 2x LRAD acoustic guns, 2 x 2 - 324 TT (Stingray), 1 helicopter (NH90) |
| Electronic equipment | SPY-1F, 2x SPG-62, 2x Litton nav., RSR-210N radars, Vigy 20 e/o system, Spherion MRS2000, CAPTAS Mk 2(v)1 / UMS4229 sonars, Condor CS-3701 ECM suite, 4x DL-12T decoy RL, LOKI torpedo decoy, MSI2005F CCS |
| Complement | 122 |
Standard scale images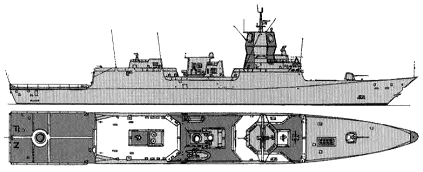 Frdtjof Nansen 2010
Graphics
Project history
Bazan design was confirmed 29.2.2000 after competition with Lockheed Martin. Contract was signed 23.6.2000. Program became the single largest Norwegian defence project ever undertaken. Some of armament and sensors may have been transferred from Oslo class. Able to operate with no personnel in the engine rooms. Signature-reduction measures include topside shaping, acoustically hooded machinery and IR suppression system, wet-down spray system, propeller shaft grounding and a flexible drive train. GRP radar mast. Combat system is a variant of USN Aegis. Space and weight are reserved for second Mk 41 VLS for Standard SM-2 missiles, 1 40mm gun or CIWS and SLQ-25 Nixie torpedo decoy. Ships have problems with corrosion.
Modernizations
2012, all: + 2 x 4 NSM SSM (8 NSM)
Naval service
Helge Instad collided 8.11.2018 with 250m-long Maltese tanker Sola TS on coastal fairway N of Bergen, was abandoned(!) by crew and, бstaying on the move, with efficient engines, but unmanned ran aground and partially sunk in shallow water 13.11.2018. She was salvaged in March 2019 and sold for scrap. Estimated cost of ship's repair would exceed the cost of her building three times.