Photo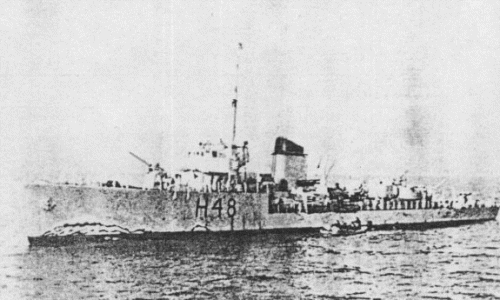 Sleipner 1945  
Ships
| Name | No | Yard No | Builder | Laid down | Launched | Comp | Fate |
| --- | --- | --- | --- | --- | --- | --- | --- |
| Sleipner | 1940- H48, 1946- L01, 1950- F300 |   | MV Horten | 1933 | 7.5.1936 | 1937 | stricken 1956 |
| Æger |   |   | MV Horten | 1934 | 25.8.1936 | 1938 | sunk 9.4.1940 |
| Gyller | 1946- L02, 1950- F301 |   | MV Horten | 1936 | 7.8.1938 | 8.1939 | captured by Germany 9.4.1940 (Löwe), returned 5.1945, stricken 1959 |
Technical data
Displacement standard, t

597

Displacement full, t

708

Length, m

72.0 pp 74.3 oa

Breadth, m

7.80

Draught, m

2.10

No of shafts

2

Machinery

2 sets De Laval geared steam turbines, 3 Yarrow boilers

Power, h. p.

12500

Max speed, kts

30

Fuel, t

oil 100

Endurance, nm(kts)
3500(15)
Armament

Sleipner, Æger: 3 x 1 - 100/40 Bofors M36, 1 x 1 - 40/56 Bofors M36, 2 x 1 - 12.7/90, 1 x 2 - 533 TT, 4 DCT, 2 DCR, 24 mines

Gyller: 3 x 1 - 100/40 Bofors M36, 1 x 1 - 40/56 Bofors M36, 2 x 2 - 533 TT, 4 DCT, 2 DCR, 24 mines

Complement

75
Standard scale images

Sleipner 1955
Graphics
Project history
Destroyers (actually torpedo boats) of Sleipner class were first torpedo ships which has supplemented Norwegian Navy after almost twenty-years break, called as political and financial difficulties. At their designing the task was put to create the ship which, not too yielding to destroyers of neighbour countries and possessing sufficient seaworthiness, would be as small as possible in the sizes and, accordingly, cheaper. It is necessary to return due to the Norwegian shipbuilders: they could develop rather original ships, by armament structure practically not yielding to larger (almost twice) Swedish and German "opponents". To reach it it was possible for the account of reasonable reduction of hull and machinery weights, and also some decrease of speed. Sleipners for the first time in national practice received longitudinal framing without double bottom. Last circumstance was partly indemnified by the big number of watertight bulkheads. Weight of machinery managed to be lowered as a result of raise of steam parameters.

Nevertheless, even these as a whole the successful ships could not disclaim a rule saying: attempt to squeeze a maximum of armaments into the minimum displacement conducts to loss invisible on a paper, but so appreciable qualities in practice: such as seaworthiness and stability. Sleipner notably yielded to her predecessors of Draug class by these factor. Three ships already built or being in a high degree of readiness it was decided to not rebuild, but three units of 2nd subgroup were redesigned, having 2 main guns instead of 3 and slightly lengthened hull.
Modernizations 6.
1940, Sleipner: - 3 x 1 - 100/40; + 2 x 1 - 102/45 QF Mk V, 2 x 1 - 20/70 Oerlikon Mk II

5/1945, Gyller when returned was armed with: 1 x 1 - 105/45 SK C/32, 1 x 1 - 37/83 SK C/30, 2 x 1 - 20/65 C/38

1952-1957, Sleipner, Gyller: were armed by 3 x 1 - 76/50 Mk 21, 2 x 1 - 40/60 Mk 7, 2 x 1 - 20/70 Mk 4, 1 x 24 - 178 Hedgehog ASWRL, 4 DCT, 24 mines, nav. radar, type 144 sonar
Naval service
Æger was sunk 9.4.1940 in harbour of Stavanger by German aircraft. Sleipner 26.4.1940 retired to England. Gyller surrendered to German troops 11.4.1940 at Kristiansand and commissioned by Kriegsmarine under name Löwe. After war Gyller was returned to Norway and broken up in 1959.