Photo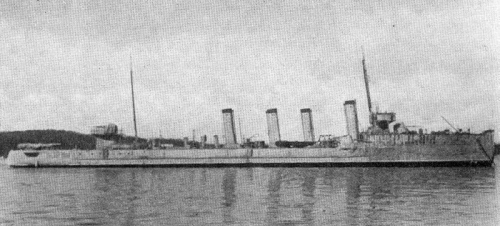 Draug
Ships
| Name | No | Yard No | Builder | Laid down | Launched | Comp | Fate |
| --- | --- | --- | --- | --- | --- | --- | --- |
| Draug | H28 |   | MV Horten | 1907 | 18.3.1908 | 1909 | stricken 1944 |
| Troll |   |   | MV Horten | 1908 | 7.7.1910 | 3.1912 | captured by Germany 4.5.1940 (Troll), returned 5.1945, stricken 1.1950 |
| Garm |   |   | MV Horten | 1912 | 25.5.1913 | 7.1914 | sunk 26.4.1940 |
Technical data
Displacement normal, t
550
Displacement full, t

578

Garm: 597

Length, m

69.2

Breadth, m

7.30

Draught, m

2.90

No of shafts

2

Machinery

Draug, Troll: 2 VTE, 4 boilers

Garm: 2 Germania steam turbines, 4 boilers

Power, h. p.

Draug, Troll: 7500

Garm: 8000

Max speed, kts

Draug: 26.5

Troll: 27

Garm: 27.4

Fuel, t

coal 105

Endurance, nm(kts)
2800(10)
Armament

6 x 1 - 76/40 Armstrong N, 3 x 1 - 450 TT

Complement

76
Standard scale images

Troll 1940
Graphics
Project history
The design was developed in 1906 by Horten N Yd. For time successful enough ships differed by validity of construction, strong hulls and good seaworthiness. They were close to British ships of "River" class, served some kind of an orienting point at drawing up of technical requirements on designing. Thus Norwegian ships were not a copy, but analogue of British ships, and had a number of individual features: an arrangement of artillery and TTs, and also presence of four funnels giving to the Norwegian ships resemblance with Swedish and Russian destroyers. Last ship, Garm, became first Norwegian turbine-driven ship.
Modernizations
~1939, all: + 1 x 1 - 12.7/90
Naval service
Draug 9.4.1940 has left Norway to England. In November 1943 she was laid up and soon BU. Garm was sunk by German aircraft 26.4.1940 in the Sogne-fjord (Bjordal). Troll was captured by German troops at Florø 4.5.1940 and commissioned 18.5.1940 by German Navy under own name. After war she was returned to Norway and sold for scrap in 1950.