NAVYPEDIA Support the project with paypal
Photo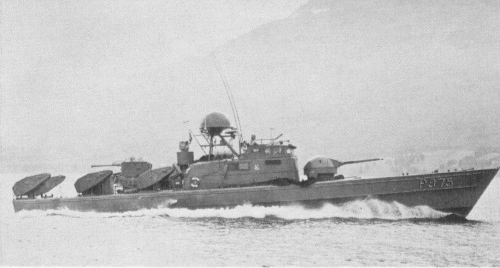 Odd 1979
Ships
| Name | No | Yard No | Builder | Laid down | Launched | Comp | Fate |
| --- | --- | --- | --- | --- | --- | --- | --- |
| Storm | P960 |   | Bergens MV |   | 19.3.1963 | 5.1963 | stricken 1967 |
| Storm | P960 |   | Bergens MV |   | 6.10.1967 | 11.1967 | stricken 1983 |
| Blink | P961 |   | Bergens MV |   | 28.6.1965 | 12.1965 | stricken 1998 |
| Glimt | P962 |   | Bergens MV |   | 27.9.1965 | 3.1966 | stricken 1992, to Lithuania (Dzūkas) |
| Skjold | P963 |   | Westermoens BB, Mandal |   | 17.2.1966 | 3.1966 | stricken 1993 |
| Trygg | P964 |   | Bergens MV |   | 27.11.1965 | 5.1966 | stricken 1993 |
| Kjekk | P965 |   | Bergens MV |   | 27.1.1966 | 8.1966 | stricken 1997, to Lithuania (Dzūkas) |
| Djerv | P966 |   | Westermoens BB, Mandal |   | 28.4.1966 | 10.1966 | stricken 1997, to Latvia (Zibens) |
| Skudd | P967 |   | Bergens MV |   | 25.5.1966 | 11.1966 | stricken 1998, to Lithuania (Sėlis) |
| Arg | P968 |   | Bergens MV |   | 24.5.1966 | 12.1966 | stricken 1992, to Estonia (Torm) |
| Steil | P969 |   | Westermoens BB, Mandal |   | 20.9.1966 | 1.1967 | stricken 1998, to Lithuania (Skalvis) |
| Brann | P970 |   | Bergens MV |   | 5.7.1966 | 2.1967 | stricken 1990 |
| Tross | P971 |   | Bergens MV |   | 29.9.1966 | 3.1967 | stricken 1989 |
| Hvass | P972 |   | Westermoens BB, Mandal |   | 20.12.1966 | 4.1967 | stricken 1998, to Latvia (Lode) |
| Traust | P973 |   | Bergens MV |   | 18.11.1966 | 5.1967 | stricken 1993, to Latvia (Bulta) |
| Brott | P974 |   | Bergens MV |   | 27.1.1967 | 6.1967 | stricken 1992 |
| Odd | P975 |   | Westermoens BB, Mandal |   | 7.4.1967 | 7.1967 | stricken 1991 |
| Pil | P976 |   | Bergens MV |   | 29.3.1967 | 8.1967 | stricken 1979 |
| Brask | P977 |   | Bergens MV |   | 27.5.1967 | 9.1967 | stricken 1997 |
| Rokk | P978 |   | Westermoens BB, Mandal |   | 1.6.1967 | 10.1967 | stricken 1992 |
| Gnist | P979 |   | Bergens MV |   | 18.8.1967 | 11.1967 | stricken 1997, to Latvia (Linga) |
100 - 1000 t displacement/ BRT tonnage vessels
Name No Yard No Builder Laid down Launched Comp Fate Storm P960 Bergens MV 19.3.1963 5.1963 stricken 1967 Storm P960 Bergens MV 6.10.1967 11.1967 stricken 1983 Blink P961 Bergens MV 28.6.1965 12.1965 stricken 1998 Glimt P962 Bergens MV 27.9.1965 3.1966 stricken 1992, to Lithuania (Dzūkas) Skjold P963 Westermoens BB, Mandal 17.2.1966 3.1966 stricken 1993 Trygg P964 Bergens MV 27.11.1965 5.1966 stricken 1993 Kjekk P965 Bergens MV 27.1.1966 8.1966 stricken 1997, to Lithuania (Dzūkas) Djerv P966 Westermoens BB, Mandal 28.4.1966 10.1966 stricken 1997, to Latvia (Zibens) Skudd P967 Bergens MV 25.5.1966 11.1966 stricken 1998, to Lithuania (Sėlis) Arg P968 Bergens MV 24.5.1966 12.1966 stricken 1992, to Estonia (Torm) Steil P969 Westermoens BB, Mandal 20.9.1966 1.1967 stricken 1998, to Lithuania (Skalvis) Brann P970 Bergens MV 5.7.1966 2.1967 stricken 1990 Tross P971 Bergens MV 29.9.1966 3.1967 stricken 1989 Hvass P972 Westermoens BB, Mandal 20.12.1966 4.1967 stricken 1998, to Latvia (Lode) Traust P973 Bergens MV 18.11.1966 5.1967 stricken 1993, to Latvia (Bulta) Brott P974 Bergens MV 27.1.1967 6.1967 stricken 1992 Odd P975 Westermoens BB, Mandal 7.4.1967 7.1967 stricken 1991 Pil P976 Bergens MV 29.3.1967 8.1967 stricken 1979 Brask P977 Bergens MV 27.5.1967 9.1967 stricken 1997 Rokk P978 Westermoens BB, Mandal 1.6.1967 10.1967 stricken 1992 Gnist P979 Bergens MV 18.8.1967 11.1967 stricken 1997, to Latvia (Linga)
Technical data
| | |
| --- | --- |
| Displacement standard, t | 100 |
| Displacement full, t | 125 |
| Length, m | 36.6 |
| Breadth, m | 6.20 |
| Draught, m | 1.50 |
| No of shafts | 2 |
| Machinery | 2 Maybach MB872A diesels |
| Power, h. p. | 7200 |
| Max speed, kts | 37 |
| Fuel, t | diesel oil |
| Endurance, nm(kts) | 550(36) |
| Armament | 1 x 1 - 76/50 Bofors TAK76, 1 x 1 - 40/70 Bofors 350 |
| Electronic equipment | Decca TM909, WM26 radars |
| Complement | 19 |
Standard scale images

Storm 1970

Storm 1980
Graphics
Project history
In 1959 23 MGBs were voted under the next five-year programme, but the number was reduced to 20. A first Storm was built as a prototype. This boat underwent many modifications during 1963-65 and was eventually scrapped. Boats did not carry full complement of SSMs at all times.
Modernizations
1970-1975, all survived: - TM909 radar; + 6 x 1 Penguin Mk 1 SSM (6 Penguin Mk 1), Decca TM1226 radar
Naval service
No significant events.
© 2007-2022 - navypedia.org